It was a hot summer here in Tokyo and now the fall season is in full effect!! With the great response of the major cooling campaign throughout the summer and various other campaigns RHDJapan will be starting out the Fall Season with more and more great campaigns.
This campaign will be focused on one side of tuning that is often overlooked, Braking.
In the First Round of the Braking Campaign, we will start with a 5 part massive APP campaign! In this campaign, RHDJapan can help supply you with a refresh for quality pads for a variety of applications to the top of the line in complete brake kits and everything else inbetween.
Part 1
Prices for all of the APP Brake Lines (in addition to Clutch Lines) have been slashed as part of a price down campaign.

The majority of the Direct Clutch Lines have been lowered by 22% with some being slammed down by 36%.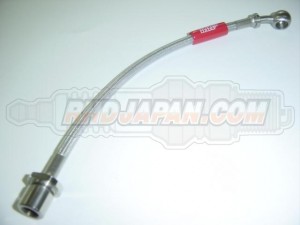 The average drop on the Stainless Fitting Brake lines is approximately 12% with some select vehicles being cut by 25%.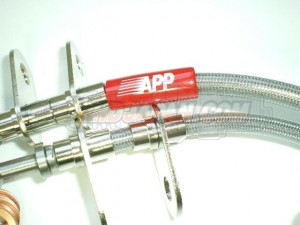 Steel Fitting Brake Line kits have dropped 15% on average and some select vehicles have decreased in price by 36%.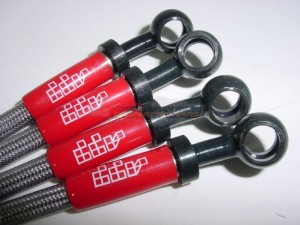 Part 2
The good news doesn`t stop with the better prices on the lines, now that APP's new lineup of SFIDA brake pads have started to get great reviews in different publications along with great feedback from drivers they have now earned their spot as a top brake pad Brand to match the quality of their already proven lines and big brake kits.
This is a great campaign for those running the stock brake setup and would like to bump their braking performance at the best cost performance available.
For any purchases of the AP-8000 or KG-1115 SFIDA pads as a Front/Rear set will receive an immediate 10% discount
For any purchases of the AP-5000 SFIDA pads as a Front/Rear set will receive an immediate 5% discount
*The discount will be applied once the qty in the shopping cart is changed to 2
Standard Calipers AP-8000 Series
Brembo Type Calipers AP-8000 Series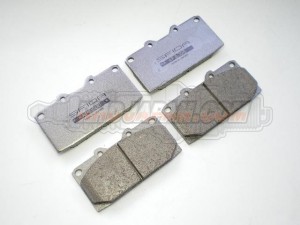 Standard Calipers KG-1115 Series
Brembo Type Calipers KG-1115 Series
Standard Calipers AP-5000 Series
Brembo Type Calipers AP-5000 Series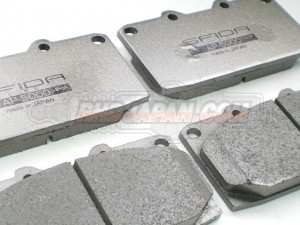 Part 3
For those taking advantage of Part 1 and Part 2 of this campaign it gets sweeter from here on out!!

RHDJapan will also include a 1 Liter can of High Spec DOT 4 Brake Fluid!! (Boiling Point of 286℃ DRY and 176℃ WET)!!

*RHDJapan will cover the extra shipping costs incurred on 1L of DOT 4 however this can ONLY be shipped with FEDEX or DHL. Please do not check out on the site with anything other than FEDEX or DHL.

The following code must be entered into the comments section at checkout:

'APPDOT4Campaign'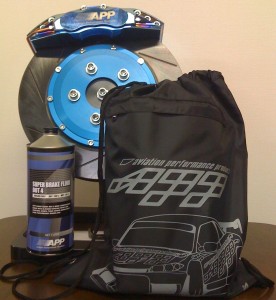 Part 4
APP Bag consisting of 3 other APP Goods within!!
Part 5
For those who would would like to go all out with a Big Brake Caliper set will receive a discount of JPY10,000 and will also receive the Brake Fluid along with the Grab Bag!!