Welcome to the RHDJapan blog. It has been a while since the last post and apologize about this as we were focusing all of our energies in making sure as many orders could be smoothly processed as quickly as possible. With a snow storm hitting the Kansai region today there will be some delays with the shipments going out today, some orders may have tracking information provided however it is possible that there will be no movement update until early next week.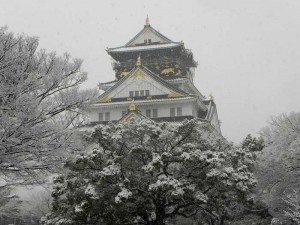 Osaka Castle getting a nice coating of the white stuff
Today also marks the first day of the annual Osaka Auto Messe, Kansai's answer to the Tokyo Auto Salon. Although a bit smaller than the salon there are a large amount of legendary tuning shops and manufacturers located in the Kansai area. This event is another great way to see the different styling and originality of what is to come for this year!

In celebration of the Auto Messe we will be having a campaign for all the manufacturers that are participating, making the event possible. The campaign will be going on until Feb 17 (9:00am JST)
Add any of the products from any of themanufacturers listed below to your shopping cart to get the additional 6% discount applied along with the total shipped price to your location!