Welcome to the RHDJapan blog and greetings from Sunny Osaka! We have had some visual site tweaks on the site with a special offer for new customers.
Having the most extensive and informative catalog of parts that continues to grow on a daily basis we have refined the search function making the site easier to use. This filtered search provides the most accurate results for all kinds of well known and very obscure JDM parts. Check it out to see the showroom of great parts catered specifically for your exact vehicle!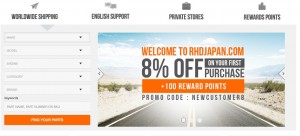 have started up 3 fresh campaigns consisting of:
Weekend Specials:
TRUST Turbo Campaign RB26DETT, 2JZ-GTE and RB25DET
TRUST FREEBIE Campaign Radiators, Oil Coolers, Intercoolers and Mufflers
HPI Tsunagi (Work Suit) Cooling Campaign
HPI Polo Shirt Cooling Campaign
TEIN Sankyu (3.9%) & Extra Bonus Point Campaign
TODA Racing CamShaft and Cam Pulley Campaign
TODA Suspension Sankyu (3.9%) & Extra Bonus Point Campaign
TODA Timing Chain and Tensioner Campaign
Project Mu Brake Pad Campaign!
ORC Clutch Campaign Silver Nugget
These other campaigns will be ongoing with lots of availability.
SARD LMGT Engine Oil Campaign
Super Now Sticker Campaign ~Supplies Last
KAAZ LSD & Oil Campaign ~Supplies Last
APP SFIDA Brake Pad & Fluid Campaign ~Supplies Last