Thank you for visiting the RHDJapan blog once again. In addition to the many other campaigns and our traditional weekend specials we have started a month long campaign for FREE Shipping on smaller orders and also discounted shipping for larger orders!! The shipping campaign items can also be used in conjunction with any of the other campaigns for maximum cost performance with RHDJapan over the Winter Holidays!!
For this Weekends Specials, RHDJapan will extend an additional 6% discount off our regular sale price for the following 11 Brands!!
ARC
DEFI
HKB Sports
KTS
Okuyama/ Carbing
Pro Shop Iida
R-Magic
Super Now
SPOON
Top Secret
TODA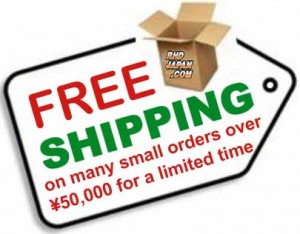 Below are some examples on FREE Shipping Example of FREE Shipping (EMS)
ARC Titan Intake Pipe with Plate CZ4A
Example of FREE Shipping (FEDEX/DHL)
ARC Oil Catch Tank Z33 VQ35HR
DEFI, Add 3 meters to your shopping cart and check the shipping cost!!