Here comes another addition to the many other exciting campaigns going on at RHDJapan. In this campaign RHDJapan is offering an additional JPY4000 discount on the purchase of any muffler in the TRUST lineup!
This includes every model in every series of mufflers available through TRUST Japan (Comfort Sports GTS, Comfort Sports Oval, Power Extreme GS, Comfort Sports Shine, HeatMax Ti, Power Extreme Ti, Power Extreme Ti-R).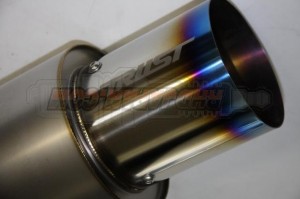 Follow the link to see all of the available TRUST mufflers on the RHDJapan site and use the pinpoint search for refined searches.
For multiple purchases of items, please add all items to your shopping cart and create a test order by selecting the bank transfer/money order option at checkout (you will not be obligated to pay by creating the test order). Once you receive your order number please send it over to us for consolidated shipped rates.
With the extensive lineup of mufflers from TRUST, we have not been able to get them all added to the RHDJapan site. If there is a muffler that you are interested and is not currently listed please provide us with the part number of the muffler for pricing.