Thank you for checking the RHDJapan blog once again! There will be no shipments made on Tuesday of next week (Nov 23) as we will be off for Labour Thanksgiving Day (勤労感謝の日 Kinrō Kansha no Hi).
We are now only two weeks left until the annual NISMO Festival at FUJI Speedway!! For those who are fortunate enough to make it to this year's festival and still need to pick up their tickets please let us know and we will do our best to arrange delivery of tickets for you and your group.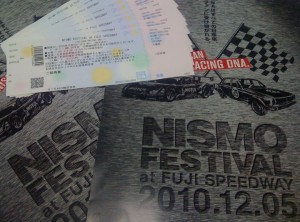 For this Weekends Specials, RHDJapan will extend an additional 6% discount off our regular sale price for the following 8 Brands!!
R-Magic

RS Watanabe

TODA

Suzuki Sport

Zep Racing

TRD

SPOON Sports

Kyo-ei/KICSMerci d'être venu faire un tour sur le Blog de RHDJapan une fois encore! Il n'y aura pas d'expédition mardi prochain (le 23 novembre) puisque c'est un jour férié pour thanksgiving et aussi pour la fête du travail, ou en tout cas son équivalent ici (勤労感謝の日 Kinrō Kansha no Hi).
Il reste maintenant deux semaines avant le grand Festival annuel NISMO au FUJI Speedway!!
Pour ceux d'entre vous qui ont la chance de pouvoir y assister cette année, et qui doivent encore acheter leur tickets, faites le nous savoir, et nous ferons de notre mieux pour livrer des entrées pour vous et votre groupe.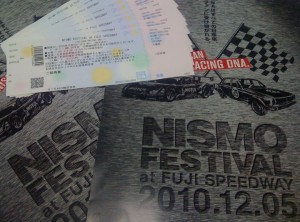 Pour les promos de ce Week-end, RHDJapan ajoute une remise de 6% supplémentaires sur les articles des 8 marques suivantes !!
R-Magic

RS Watanabe

TODA

Suzuki Sport

Zep Racing

TRD

SPOON Sports

Kyo-ei/KICSGrazie per la vostra costanza nel seguire il nostro blog! MArtedì 23 Novembre non saranno disponibili spedizioni, in quanto è un giorno nazzionale di festa per i lavoratori qui in Giappone (勤労感謝の日 Kinrō Kansha no Hi).
Solo 2 settimane mancano all'apertura del NISMO Festival al FUJI Speedway!!! Per chi di voi che sia così fortunato da potervi partecipare ma che siano ancora alla ricerca di un biglietto per l'ingresso, è sufficente che ce lo facciate sapere e faremo il possibile per inviare i biglietti a voi o al vostro gruppo!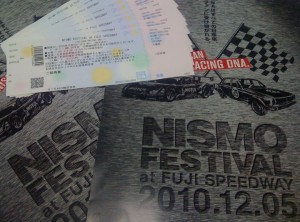 Per questo fine settimana, RHDJapan offre uno sconto aggiuntivo del 6% per queste grandi 8 Marche!!
R-Magic

RS Watanabe

TODA

Suzuki Sport

Zep Racing

TRD

SPOON Sports

Kyo-ei/KICS