Welcome to the RHDJapan Blog once again. After adding continual requests being added to the site day-in and day-out over the last couple years we have ended up with the most in-depth aftermarket and OEM Original JDM catalog available.
With tens of thousands of parts available from over 300 different brands/manufacturers the old search could be overwhelming at times. In order to
improve the searching functionality on the site we have just released the Pin-Point Search.
This new function will allow you to search anyway you like to find exactly what you need! Give it a try!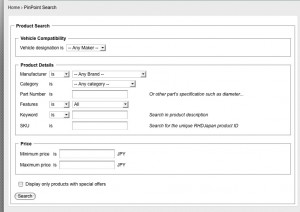 bienvenue une fois de plus sur le Blog de RHDJapan. Après avoir ajouté continuellement des pièces sur le site jours après jours pendant ces dernières années, nous voici aujourd'hui avec le plus détaillé des catalogues de pièces de l'aftermarket et OEM possible.
Avec plusieurs dizaine de milliers de pièce couvrant plus de 300 différentes marques/fabricants, le vieux moteur de recherche pouvait se montrer décevant, voire carrément inefficace. Afin d'améliorer tout ceci, nous venons juste de publier un outil de recherche beaucoup plus performant, le Pin-Point Search.
Cette nouvelle fonction va vous permettre d'effectuer des recherches selon les critères de votre choix afin de trouver exactement ce dont vous avez besoin! allez vite y faire un saut!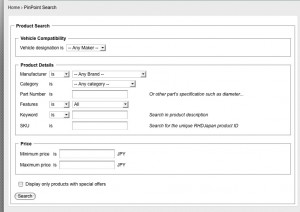 Benvenuti nuovamente all'interno del nostro Blog!
Dopo anni di continue richieste di prodotti aggiunti poi al nostro catalogo siamo ora in grado di fornirvi, quello che molto probabilmente è il Catalogo più fornito tra tutti i negozi on-line!
Questo sia per parti di Serie OEM e sia prodotti Tuning Aftermarket.
Con decine di migliaia di parti a vostra disposizione da più di 300 produttori il vecchio motore di ricerca aveva difficoltà ad eseguire con successo le ricerche.
Per migliorare la possibilità di ricerca delle parti ed offrirvi sempre un migliore servizio abbiamo create questo nuovo motore di ricerca, La ricerca Pin-Point
Questo motore vi permetterà di cercare tutte le parti a cui siete interessato o di trovare l'esatta parte che cercate! Provatelo subito!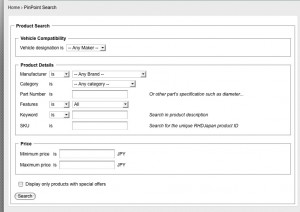 IMPORTANTE
Questo motore di ricerca è appena stato create e stiamo ora migliorandolo passo per passo per potervi offrire il miglior motore di ricerca per i vostri bisogni!
Se avete qualsiasi commento o suggerimento, contattateci liberamente o lasciate un messaggio nel Blog!
Il vostro aiuto e supporto è molto apprezzato ed essenziale per aiutarci ad offrirvi il miglior servizio!
Per qualsiasi informazione contattate liberamente Amon in Italiano a questo indirizzo: support@rhdjapan.com
A presto con grandi nuove offerte dalla vostra affezionata RHDJapan!!