Hello from the RHDJapan blog and TGIF! The RHDJapan team will be celebrating our Bounenkai tonight and would like to give a big Kanpai to all who have supported us this year! There is still some time for those in a hurry for the end of the year. If you are in a rush, please remember to check the Holiday Schedule prior to placing your order.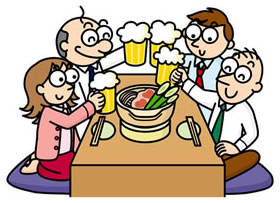 Bounenkai = Forget the year party, get as drunk as possible to selectively forget what you want from the year!! yatta!
RHDJapan will be extending an additional 6% discount on some select manufacturers until 9:00a.m Monday, December 10
This additional discount will also be further applied to all items on Clearance!!
Campaigns:
Coil Over Campaign ~Limited
Project Mu Double Up Campaign ~Dec 14
D-Max Big Aero Campaign ~Limited
10% off all Okuyama/Carbing Products ~2013
10% off all SARD Products ~Dec 21
APP HID Lighting Campaign ~Dec 21
Charity Campaigns
Save Japan Charity Jacket w/ RHDJapan Patch