Hello from the RHDJapan blog. We are proud to announce a new and fresh campaign for the whole Fujitsubo lineup and
on all OEM Parts for the rest of the summer!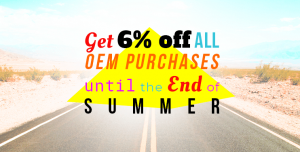 Get an additional 6% discount on ALL OEM parts ~Sept 30!
Only 1 more week until the beginning of the Summer Holidays and Obon Season, please be aware of potential delays that can happen from orders placed.
 at least additional 6%~ discount on ALL parts from the following JDM Brands!
This week we have had a massive amount of very exciting campaigns added to the site. We have more upcoming so please stay tuned to the RHDJapan blog!
Upgrade Campaigns from TRUST GReddy
Amazing super limited for R35 Turbine Kit!!