Thank you for checking the RHDJapan blog. ORC Clutch Kits will have an additional discount of 6% until the end of November.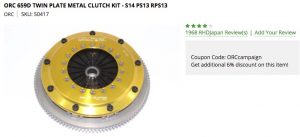 discount available until coupon code is no longer displayed in the listings.
Tagged as: 1000F, 409D, 559D, 659D, Carbon Clutch, Clutch Kit, metal clutch, Ogura Clutch, ORC, ORC309D, Twin Plate clutch
Comments Off
RHD Insta
No images found!
Try some other hashtag or username
Categories
Calendar
September 2020
M
T
W
T
F
S
S
1
2
3
4
5
6
7
8
9
10
11
12
13
14
15
16
17
18
19
20
21
22
23
24
25
26
27
28
29
30