Welcome back to the RHDJapan blog and Happy New Year to one and all!  As we enter the year of the Dragon the RHDJapan team will continue to push the bar in order to provide the best overall shopping experience possible. With the renewal of our bidjdm.com site we have now fulfilled a void in order to provide used and discontinued parts to go along with the many new parts available through RHDJapan. We can now more effectively provide you with any possible parts (or other items) from Japan!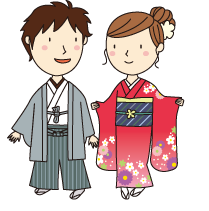 This upcoming Monday the 9th will be a National Holiday known as 成人の日 (Seijin-no-hi) or Coming of Age Day.
This is a celebration and ceremony for all people who will be turning 20 years of age this year. The RHDJapan team will be off for the day in observance of this holiday.
Like we do everyweek at this time we will be listing the select brands that will be on special for the whole weekend plus Monday. An additional 6% discount will be applied to any parts from any of the manufacturers listed below. These specials end at 9:00am next Tuesday.
Additional Discount will also be applied to any clearance items found for these manufacturers!
Campaigns:
With the ending of last year all of the campaigns have also ended. We are working on several more and will have them released as soon as possible.
Charity Campaigns