The Motor Sports community has pulled together to help raise funds for the many still suffering from the damage created by the Earthquake and Tsunami on March 11.
Through places like the J's Style website the Motor Sports community has been able to help with the effort through direct donations, charity events, charity auctions and also a Charity T-Shirt!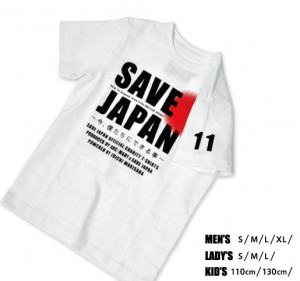 RHDJapan will help support the cause by including a Save Japan T-Shirt as a FREE service for orders over JPY80,000 (or equivalent in other currency)
The following must be added in the comments section at checkout :
'Save Japan T-Shirt, Size : S/M/L or XL'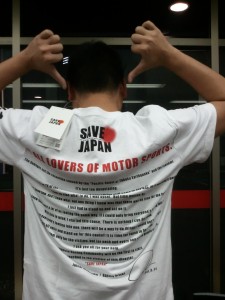 *The shirts will be added to the RHDJapan site for those who would like to purchase it individually
**This offer is not valid to be used in conjunction with any other campaigns or charity items.
Fresh Campaigns

STI NBR Challenge Champions Campaign~Aug 25
Project Mu Domination Campaign~Aug 19
Revolution WTAC Podium Campaign~Sept 10
HKS Suspension Campaign ~Aug 30
SPOON Rigid Collar Campaign ~Sept 30
KTS Cooling & Handling Campaign~Aug 19
Other Great Campaigns with RHDJapan!

FREE Spark Plugs & 1/2 Off Suction Kit for SR20DET ~Aug 30
FREE TRUST Muffler Campaign SXE10~Aug 30
TRUST Power Up Campaign RB26 Limited Availability!!
HKS FREE Spark Plug Campaign ~August 24
TRUST Suspension Campaign ~Aug 30
SARD Blow Off Valve Campaign ~Aug 15
Extra Consolidation with HKS Muffler Campaign!!~Aug 30
TRUST Muffler Campaign ~August 30
TRUST Cooling Campaign ~August 30
Ralliart Discontinuation Sale! ~August 30
Mazda Festa Charity Goods Campaign Limited Availability