Welcome to the RHDJapan blog! We are excited to announce another exciting original campaign released for the first time! This one is specifically for the Subaru crowd and targeting those looking to refresh the filters for improved clean air. Treat yourself, passengers along with your boxer engine with this offer!

With the purchase of both the N1 Air Filter along with the Carbon A/C Filter by Zero Sports you will receive an immediate JPY2000 discount in your shopping cart!
Add items to your shopping cart to have the discount applied and total shipped price to your location!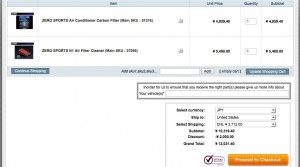 Campaigns
NeXT Spring Campaign ~Limited Offer

HPI Intercooler Campaign ~April 15
GP Sports Campaign ~May 31
Project Mu Brake Pad Campaign ~June 14
APP Brake Line & SFIDA Pad Campaign ~June 28
APP HID Lighting Campaign ~June 29
Charity Campaigns
Save Japan Charity Jacket w/ RHDJapan Patch