Many thanks for checking the RHDJapan blog. In the festive mood as we enter the cold months at the end of the year RHDJapan is proud to continue on with some more of our annual FREEBIES. This one is a great choice to start with as it will not be vehicle specific and just about any order will qualify! Give your hands a little extra warmth on the casual scene or extra grip, cleanliness and protection when desired.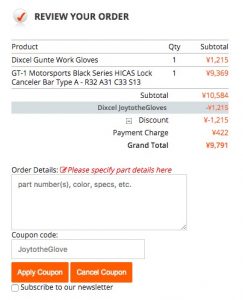 We intend to have this offer ongoing until the end of the year however there is Limited Availability.
If stock is gone the message will disappear from the listing.
Please also note that the item is only available as a 'FREE' Size which is around a M/L fitment.
If you have big hands, please give them to a friend in need.
Welcome to the RHDJapan blog and greetings from the RHDJapan team. This original campaign is for those looking to upgrade the braking system with a fresh set of brake rotors from Dixcel. Limited availability, offer will expire once the special message display is no longer seen on the site.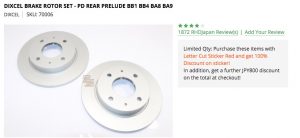 In this campaign we will be providing a high quality cutting sticker and additional discount. Add the sticker to the shopping cart with any Dixcel Rotor set and receive a 100% discount on the price of the sticker along with an additional JPY800 discount!
Receive ~30% additional discount on the combination purchase!