Welcome to the RHDJapan blog and greetings from the RHDJapan team. This original campaign is for those looking to upgrade the braking system with a fresh set of brake rotors from Dixcel. Limited availability, offer will expire once the special message display is no longer seen on the site.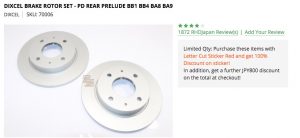 In this campaign we will be providing a high quality cutting sticker and additional discount. Add the sticker to the shopping cart with any Dixcel Rotor set and receive a 100% discount on the price of the sticker along with an additional JPY800 discount!
Receive ~30% additional discount on the combination purchase!