Hello from the RHDJapan team and welcome to the blog. With the Tokyo Auto Salon now out of the way all the manufacturers are back up to speed, apologies for any small delays that you may have experienced during the Holiday Season during the Tokyo Auto Salon. With all the coverage from different media outlets we have continually been updating the RHDJapan Facebook Wall with new product information, picture sets and videos. We feel that we have been able to bring the event to the many enthusiasts around the globe that could not attend in person. Thanks to all that have liked and commented on the many different posts made.
We will have a very special FREEBIE session setup when we reach 20,000 fans!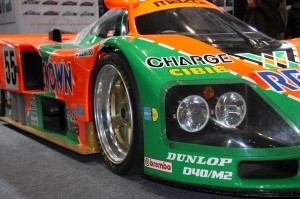 Finally got to see the legendary 787B in person!
Like we do everyweek at this time we will be listing the select brands that will be on special for the whole weekend plus Monday. An additional 6% discount will be applied to any parts from any of the manufacturers listed below. These specials end at 9:00am next Monday!
Additional Discount will also be applied to any clearance items found for these manufacturers!
Campaigns:
Charity Campaigns