Hello from the RHDJapan blog. The RHDJapan team has been working extra hours to get in and out as many orders as possible due to the delays from the Winter Holiday and Tokyo Auto Salon. By the end of next week we expect to have all orders processing within our normal time frames.  Thanks to all for your understanding and patience with us.
In this blog post we will be announcing a give away available to those who have picked up or received any of the RHDJapan stickers over the years. Many orders processed over the last couple weeks have also had stickers included as a service. For anyone who would like to participate in winning this tremendous 1/24 scale model please hashtag #RHDJapanRocketBunny on instagram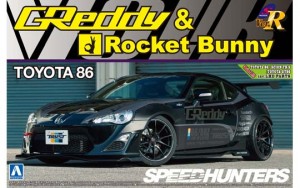 The person with the most likes on Valentines day 12:00pm JST will be able to get this item included with their next order shipped out!
The super popular TEIN Suspension campaign that expired at the end of the year is back in action for a limited time. Look for the 'Big Sale' button to find the coupon codes!
In order to redeem your discount please use the following code at checkout from the site:
WeekendSpecials6%
Tagged as: ADVANCE, Cusco, Exedy, Garson, Greddy, GT-1 Motorsports, HKS, JDM Parts, Mugen, Okuyama, R's Racing Service, RHDJapan, rocket bunny, RS Watanabe, speedhunters, Splitfire Japan, STI
Comments Off