Welcome to the RHDJapan blog post. We have received notification that there will be a price increase of up to 33% on select parts from Tomei.
For those who are looking to pickup and would like a little extra incentive before the price increase, we would like to offer a
PRE-Price Increase Campaign of 6% additional discount!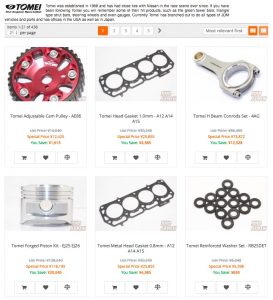 Tagged as: berry-ring, complete engine, complete head, Expreme, genesis, piston kit, PONCAM, Procam, reinforced bolt, shift knob, short block, Tomei
Comments Off
Hello from the RHDJapan team. We are proud to announce another campaign which will involve Project Mu Brake Pads! Starting off with an additional 10% discount on the Front/Rear Set of HC+ Series Brake Pads!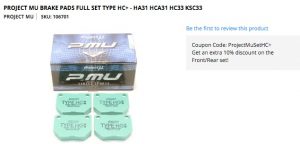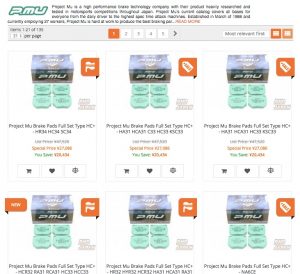 All vehicles that have front/rear pads as a set will be listed for both pads and shoe applications. The B-Spec, HC-CS, K-Sports,
NS, NS-C, Boom Wagon and K-Street will also be introduced with special pricing. For any urgent requests please contact us with your requirements!
Tagged as: B-Spec, Boom Wagon, Brake Pads, brakes, Hc-cs, HC+, JDM, jdmparts, K-Sports, K-Street, NS, NS-C, project mu, Time Attack
Comments Off