Welcome to the RHDJapan blog. With the hot summer months of Japan soon approaching everyone is looking forward to staying as cool as possible. We have already started with some other great cooling campaigns and have also added lots of great cooling items in our clearance section.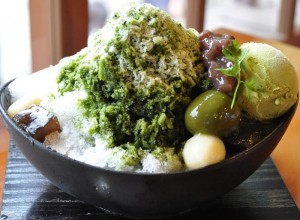 One way to stay cool 'Kakigori' finely shaved ice with syrup.
In this listing we are proud to introduce the first ARC campaign since being restructured.
ARC cores are the choice for many of the original intercooler kits for top tuning shops and manufacturers. The ARC distinct design and logo mark has been seen peaking out of the bumper on some of the top tuned JDM vehicles ever made. ARC intercoolers are well known to be the most prestigious in the tuning world and also come with a price higher than that of other mass produced kits.
With this campaign 5pcs of the ARC Cool Fin will be included as a FREE Service with the purchase of any intercooler kit!  The cool fins will help reduce excess heat in other Hot Spots throughout your machine!! This is a JPY10,395 value (about AUD/USD130, €100)!
Available Intercoolers :
You can check out of the site with the intercooler of your choice and we will make sure that the 5sets of Cool Fins are included for you!
S15 Silvia Cross-Flow Wide M073 Core

WGNC34 260RS Stagea SMIC M073 Core
BNR32~BNR34 M079 Core Twin-Entry
BNR32~BNR34 M109 Core Twin-Entry
CT9A Lancer Evolution VII/ IX M073 Wide
CZ4A Lancer Evolution X M073 Core
Campaigns:
MSC Challenge Campaign ~Limited Offer
GP Sports Double Up Campaign ~May 30
Project Mu Double Up Campaign ~June 15
APP HID Lighting Double Up Campaign ~June 28
SARD GT Wing Campaign ~June 29
TRUST Cooling Campaign ~July 30

Charity Campaigns