Hello and Seasons Greetings from RHDJapan.  As the year unwinds we would like to give a big thanks to all who have supported us throughout the year.  In the Holiday Spirit we are going to continue with a bunch of extra brands in this batch of Weekend Specials to go along with the different promotions and campaigns listed on the site.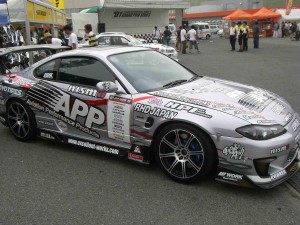 The old APP S15 the first D1GP machine that we got to be a part of!
As we do every week for the weekend specials we will be offering an additional 6% off  The weekend specials and this offer will expire on Monday midnight JST, please check the timer on the site to place your order in time!!
Extra Special savings on these brands which will also have a Qty Discount available! This will be an additional discount of JPY1000 for the 2nd item purchased and +JPY500 for each additional item purchased from the same manufacturer! 
Double up Discounted Brands:
Standard Weekend Special Discounted Brands: