Thank you for visiting the RHDJapan Blog. This year Golden Week will be starting from the 29th of April and will be ongoing until the 5th of May. Orders placed from now and over Golden Week may experience a slightly delay in processing due to the holiday. We will continue to be on e-mail and process orders while also making shipments on the 2nd and 6th of May. Orders placed that will be processed within the standard 5~10 working days time frame will continue to process factoring in Golden Week as a non-working day National Holiday.  Pre-order stock checks will not be available until the 9th of May.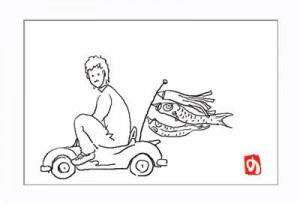 We are proud to announce 3 newly released RHDJapan original campaigns as well!
The first is a new style of campaign in which any of the mufflers from Fujitsubo, SPOON, Mugen or TODA will qualify for!
The first campaign includes a FREE T-Shirt with the purchase of select goods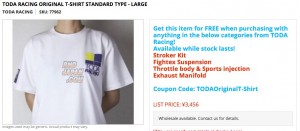 This campaign is specifically for K20 K24 F20 and F22 owners looking to upgrade the chain and tensioner at the same time.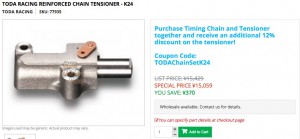 Silver Nugget Clutch Kit Campaign for all Clutch Kits!  ~End of May
ONGOING CAMPAIGNS:
Categories have been expanded and points increased while the final calendars are still available:
HKS Bonus Points & Wall Calendar Campaign  ~supplies run out
The semi-annual  Project Mu Brake Pad Campaign back to bring a nice discount for set purchases.
Cusco Poster Calendar Campaign ~supplies run out
Top Secret Poster Calendar +Bonus Points ~supplies run out
Mugen Calendar Campaign (available with Spoon, J's Racing, FEEL's and Seeker)
Fujitsubo Wall Calendar +Points Campaign ~supplies run out
Super Now Sticker Campaign ~Supplies Last
KAAZ LSD & Oil Campaign ~Supplies Last
APP SFIDA Brake Pad & Fluid Campaign ~Supplies Last