Thank you for checking the RHDJapan Blog. Another original campaign only available from RHDJapan! In celebration of the new release of the OBD adapter harness for the innovative Sirius series meters from TRUST/GReddy RHDJapan is extending a special discount with the combined purchase of the Turbo Unify Meter, Control Unit and Adapter Harness
This campaign is specifically for OBD equipped turbo vehicles with compatibility confirmed from TRUST/GReddy for the adapter harness.
A great option for those looking to keep an accurate eye on boost levels and display your choice between a variety of different engine vitals with cutting edge meter system.
No additional sensors required for display of water temp, oil temp, RPM, km/h, intake manifold pressure or voltage and installation costs can be saved through plug and play D.I.Y design.
All in one design for simple and effective readings that will reduce clutter the dashboard (additional meters can be added on through the control unit)
Congratulations to the Toyota Gazoo Racing World Rally Team in becoming the Champions of the Manufacturers' World Rally Championship in the 2018!

In celebration of this victory Project Mu is extending a special campaign in being the official brake pad for the team. Continual proven performance through the most rugged of motorsports Project Mu has developed a wide variety of compounds for an extensive lineup of vehicle and motorsports applications.

While stock is available RHDJapan will including the commemorative Toyota Gazoo Racing WRT Manufacturers' Champion Muffler Towel with the purchase of any Project Mu Brake Pads!
*limited one item per order.
Thank you for checking the RHDJapan blog for another blog update.
Following up on the Tokyo Auto Salon is Osaka's turn to represent Kansai flavor and style with the Osaka Auto Messe!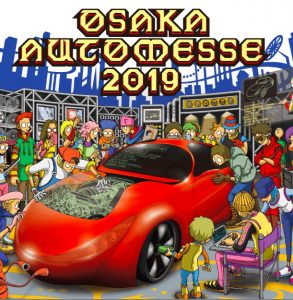 RHDJapan will be extending a special campaign in honor of the brands and manufactures that work relentlessly to make the Osaka Auto Messe a great followup to the Tokyo Auto Salon in the Kansai region.
This campaign will go on until Feb 12 08:30 JST and will provide an
additional 6%~ on the whole RHDJapan catalog!!
Coupon Code: OsakaAutoMesse2019
Get at least 7% discount on the Exedy Catalog!