Thank you for checking the RHDJapan blog. We would like to bring attention to the Nagisa Auto aka NAMS project in support of popular Toyota and Nissan neo classics with such products as Ball Joints, Inner and Outer Tie Rods along with Pitman and Idler Arms.
In support of the old school all products have been added to the RHDJapan site

Nagisa Auto is also open to further developing the lineup. Please feel free to contact the RHDJapan team for consultation.
Nagisa has come through in support of the Old School JDM Legends with the release of the Roll Center!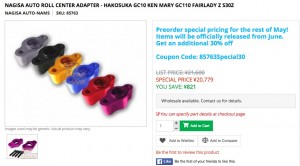 Get a one-time major discount on the first lot to be manufactured! Deadline for manufacturing will be the end of this month.
ONGOING CAMPAIGNS:
The first campaign includes a FREE T-Shirt with the purchase of select goods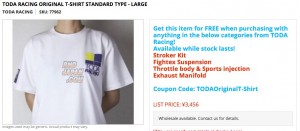 This campaign is specifically for K20 K24 F20 and F22 owners looking to upgrade the chain and tensioner at the same time.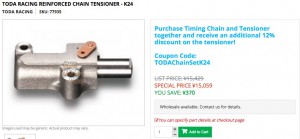 Silver Nugget Clutch Kit Campaign for all Clutch Kits!  ~End of May
Categories have been expanded and points increased while the final calendars are still available:
HKS Bonus Points & Wall Calendar Campaign  ~supplies run out
The semi-annual  Project Mu Brake Pad Campaign back to bring a nice discount for set purchases.
Cusco Poster Calendar Campaign ~supplies run out
Top Secret Poster Calendar +Bonus Points ~supplies run out
Mugen Calendar Campaign (available with Spoon, J's Racing, FEEL's and Seeker)
Fujitsubo Wall Calendar +Points Campaign ~supplies run out
Super Now Sticker Campaign ~Supplies Last
KAAZ LSD & Oil Campaign ~Supplies Last
APP SFIDA Brake Pad & Fluid Campaign ~Supplies Last