THE BATCH OF SHIRTS HAVE ALL BEEN SOLD AND CAMPAIGN HAS ENDED
Welcome to the RHDJapan blog, we have some great news for those that did not make it in time for the original Save Japan T-Shirt. The 2012 Version of the  Save Japan Official Charity T-Shirt has been released!!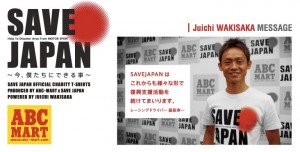 Through places like the J's Style website the Motor Sports community has been able to help with the effort through direct donations, charity events, charity auctions along with Charity Jackets and T-Shirts!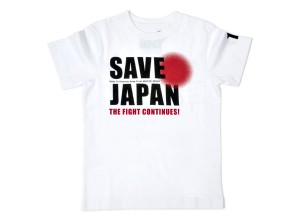 RHDJapan will continue to support the cause by including a Save Japan T-Shirt as a FREE service for orders over JPY80,000 (or equivalent in other currency)
The following information must be added in the comments section at checkout :
'Save Japan T-Shirt, Size : S/M/L or XL'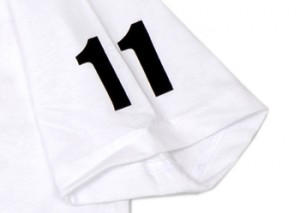 *The shirts are also available individually on the RHDJapan site as well
Other Charity Campaigns
Save Japan Charity Jacket w/ RHDJapan Patch
Bienvenue à tous sur le Blog de RHDJapan, nous avons quelques fornmidables nouvelles pour ceux d'entre vous qui n'avaient pas pu avoir à temps un T-Shirt original Save Japan. La version 2012 de ce T-Shirt vient de sortir!!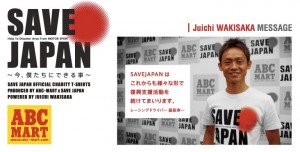 Sur des sites tels que  J's Style la communeauté du sport Automobile a pu aider de nombreux efforts au travers de donation, oeuvres caritatives!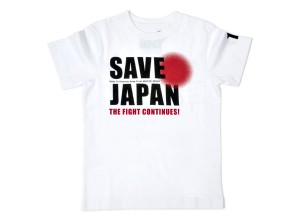 RHDJapan continue à filer un coup de main et offre un T-shirt GRATUIT pour toute commande de plus de 80.000 JPY
Merci d'ajouter ces informations lorsque vous procédez à la commande :
'Save Japan T-Shirt, Size : S/M/L or XL'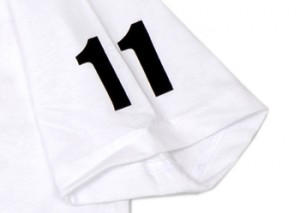 *Les T-Shirt sont disponibles à l'unité sur le site de RHDJapan également.
Autres offres caritatives en cours

Welcome to the RHDJapan blog and another original campaign put together especially for RHDJapan customers!
After several years of being the sole international distributor listed on the Super Now site RHDJapan has proudly distributed the top quality niche tuning parts of Super Now throughout the world. While RHDJapan has helped take care of the international inquiries for Super Now, this has allowed the guys at Super Now to focus on what they do best. Race, develop parts, machine parts and race again. As a result, Super Now has significantly expanded their lineup of niche RX-7 parts to several Honda, Toyota, Nissan and Lexus as well.

In celebration of this great partnership RHDJapan and Super Now are working in collaboration in order to extend the highest discount as of yet on all Super Now products!!
starting immediately!
There is no end date set on this campaign as it will be available until we have reached the preset amount that we are allowed to provide at this special rate.
The discount will be available until the additional discount is not applied when the items are added to your shopping cart. First come first serve on the best pricing on Super Now parts ever!
For any requests for Super Now items that are not already available on the RHDJapan site please send us a request to get the items added for this campaign
Campaigns:
MSC Challenge Campaign ~Limited Offer
Project Mu Double Up Campaign ~June 15
APP HID Lighting Double Up Campaign ~June 28
SARD GT Wing Campaign ~June 29
TRUST Cooling Campaign ~July 30
ARC Cooling Campaign ~August 17
SARD Cooling Campaign ~August 30
TEIN Suspension Campaign ~Sept 27
Charity Campaigns
Save Japan Charity Jacket w/ RHDJapan Patch
Bonjour et bienvenue sur le Blog de RHDJapan pour une nouvelle offre spécial que vous allez particulièrement apprécier,
Après avoir été pendant plusieur années le seul distributeur à l'internation des pièces SuperNow, RHDJapan  a distribué fièrement ces articles de qualité exceptionnelle dans le monde entier. Alors que RHDJapan a aidé a développer les demandes émanent de l'étranger pour SuperNow, l'équipe de SuperNow a pu se concentrer sur ce qu'ils font de mieux à savoir,piloter, développer des pièces, et piloter encore! Du coup leur gamme s'est copieusement étoffée notamment pour les RX-7, beaucoup de HONDA, TOYOTA, NISSAN et même LEXUS!

Pour célébrer ce chouette partenariat RHDJapan et SuperNow ont travaillé ensemble pour mettre à votre disposition tous les articles SuperNow avec une Super remise et ça commence Now !!
10% de remise sur tout Super Now!
Il n'y a pas de date de fin à cette offre, elle restera valable jusqu'à ce que le montant qui a été préalablement soit atteint, et comme toujours, premier arrivé, premier servi pour cette remise exceptionnelle!!
Si vous aviez des demandes concernant des articles SuperNow qui ne sont pas encore disponible sur le site RHDJapan, merci de nous faire un mail et nous nous ferons le plaisir de l'ajouter pour l'occasion !
Offres en cours:
MSC Challenge Campaign ~Limited Offer
Project Mu Double Up Campaign ~June 15
APP HID Lighting Double Up Campaign ~June 28
SARD GT Wing Campaign ~June 29
TRUST Cooling Campaign ~July 30
ARC Cooling Campaign ~August 17
SARD Cooling Campaign ~August 30
TEIN Suspension Campaign ~Sept 27
Offres caritatives