TGIF and welcome to the RHDJapan Blog! This will be the last post for September as we creep into the final 3 months of 2012! We hope that it will end up to be a positively memorable year for all!!
With the extraordinary skills of veteran drifter Declan Hicks, he has once again been able to pilot RHDJapan Works Cresta to an overall 2nd place finish in the EDC!!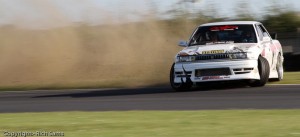 Hicks-san getting sideways in the RHDJapan Works JZX81
(photo courtesy of Rich Sams Photography)
There are also still many FREEBIES available for any orders placed with RHDJapan! Make sure to check check and 'like' the RHDJapan FB page to get in on the extra offers from the team.
RHDJapan will be extending an additional 6% discount on some select manufacturers until 9:00a.m Monday, October 1
This additional discount will also be further applied to all items on Clearance!!
Campaigns:
SARD Racing Blow Off Campaign ~Oct 15
BLITZ SE Intercooler Campaign ~Oct 15
Blitz Radiator Campaign & Wagara Items ~Oct 19
Ignition and Spark Plug Campaign ~Oct 31
Endless Brake Kit Campaign ~Oct 31
Charity Campaigns
Save Japan Charity Jacket w/ RHDJapan Patch