Hello again from the RHDJapan team. We have received word of soon to come price increases on the long-seller Direct Ignition Systems from Splitfire. 
The price increase is expected to be significant, up to 20%. As we have done in the past we would like to extend a special discount for as long as possible until we must readjust pricing for the new pricing.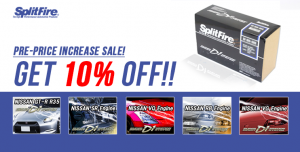 Welcome to the RHDJapan blog. Look for the Promo icon on select Tomei parts for some extra stickers and Bonus Points!