Hello and BIG Thanks for checking the RHDJapan Blog. First off, many apologies for anyone that had experienced problem with the JDM Thanksgiving Coupon Code. For anyone who had problems with the coupon code please contact me directly at antell@rhdjapan.com with the subject of 'JDM Thanksgiving' and your order will be locked in. This offer can only last until the end of this month.
As the majority of the world gets ready for celebrating the close of the year we will continue to make more special offers  as the year winds down. Although we do not have a 'Black Friday' or 'Cyber Monday' or any of the other hyped up sales we always do out best to bring the best pricing all the time and specials as much as possible. In this spirit we will be offering a bumped up batch of Weekend Specials!!
This weekend we will put the whole catalog at least 8% additional discount!
Coupon Code: WeekendSpecials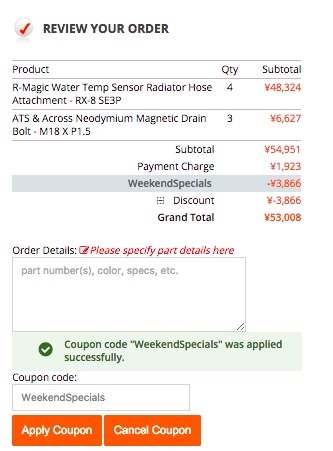 Other Campaigns listed will have an increased discount or offer:
Campaigns:
SARD Torsen Racing LSD Campaign
These other campaigns will be ongoing with lots of availability.
SARD LMGT Engine Oil Campaign
KAAZ LSD & Oil Campaign ~Supplies Last
APP Brake Fluid Campaign