Thank you for checking the RHDJapan blog. This week we have put up a bunch of super discount offers and have been putting the links through the RHDJapan Facebook page. Several items already listed at ~50% our regular sales price. Many more will be announced so stay tuned. Great offer for KTS Spin Turn Knobs and last chance for the FREE GReddy Mechanic Gloves!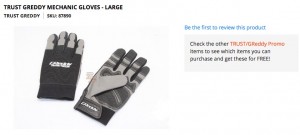 Weekend Specials for the rest of the year will also have an increased  discount %.
Get an additional 7% off for all items from these great JDM brands:
Campaigns:
~2017
Limited Availability:
Tomei Bonus Points and Sticker Campaign
RHDJapan Facebook +40000 fans special discounts
Splitfire Pre-Price Increase Campaign
FREE SHIPPING!
Blitz Boost Controller FREE Shipping Campaign
These other campaigns will be ongoing with lots of availability.
SARD LMGT Engine Oil Campaign
Super Now Sticker Campaign ~Supplies Last
KAAZ LSD & Oil Campaign ~Supplies Last
APP SFIDA Brake Pad & Fluid Campaign ~Supplies Last