Hello from the RHDJapan team. After another hot Kansai summer fall has finally come back to Japan. The cooler weather is a nice change and reminds us how quick the end of the year is coming. Many times end of the year campaigns start later on in the season however with more products being made to order, longer production times and less stock all around we figure that we should start putting as many specials immediately and ongoing for the rest of the year.
 Putting in extra negotiations to bring more specials offers! This week we have added 4 more campaigns offering extra discounts on select parts.
3 new offers for select Nagisa Auto parts: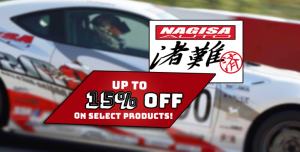 and extra discount for the long seller top quality Sequential Type Blow Off Valves from HKS!
Weekend Specials for the rest of the year will also have an increased  discount %.
Get an additional 7% off for all items from these great JDM brands:
Campaigns:
~2017
Limited Availability:
Tomei Bonus Points and Sticker Campaign
RHDJapan Facebook +40000 fans special discounts
Splitfire Pre-Price Increase Campaign
FREE SHIPPING!
Blitz Boost Controller FREE Shipping Campaign
These other campaigns will be ongoing with lots of availability.
SARD LMGT Engine Oil Campaign
Super Now Sticker Campaign ~Supplies Last
KAAZ LSD & Oil Campaign ~Supplies Last
APP SFIDA Brake Pad & Fluid Campaign ~Supplies Last
Hello from the RHDJapan crew. Here is another great offer specifically for the serious enthusiast with GT Wing!  Get 15% off all Nagisa Auto body covers for the remainder of 2016!
More big campaigns bringing pricing discounts like never before. Fine tune handling with at least a 10% discount on all links, rods and arms from Nagisa Auto!
Welcome to the RHDJapan Blog once again! Happy to announce a nice discount on the most favored Blow Off Valve on the market, the long time seller from HKS!!