Hello from the RHDJapan team and thank you for checking out our blog. Luckily we have been able to make it out to a couple different events here in Japan lately, coverage of both the Nihonkai Classic Car Meeting in Itoigawa
and Stance Nation G Edition in Osaka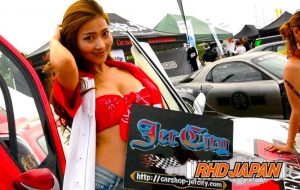 have been updated to the RHDJapan FB page and Instagram page
As the hot summer comes to a close many of the on-going campaigns also ended at the end of August. All expired campaigns have been removed from the bottom of the blog. This week, we have be able extend a couple of the campaigns for another month. These include the following campaigns:
Extra stock has been located for the following FREEBIE Campaign:
Project MU Gazoo Racing Eco-Bag
This week, the best prices for the best meters have been further discounted until the end of October. Discount applied to whole DEFI lineup!
Weekend Specials Additional 6% discount
Other ongoing campaigns include the following:
Stay in style, dry and cool with TRUST Polo Shirt ~Sept 29
FREE Suction Kit for SR20DET Sports Turbine Kits ~Sept 28
TRUST GReddy Sirius Meter Campaign ~Limited Qty