Greetings once again from the RHDJapan blogspot! In addition to the many campaigns already going on we have another out of the ordinary campaign to offer! In addition to extra discount we are offering a great T-Shirt for those who are looking to strategically shop and benefit from consolidation on their order.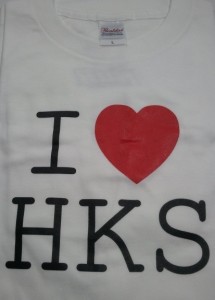 Offer #1 : an additional 6% discount will be applied to all HKS Mufflers until the 24th of August!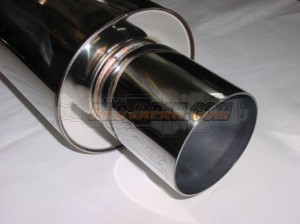 Offer #2 : Get an official high quality HKS T-Shirt as a FREE Service for muffler orders consolidated with other items.
If you are interested in taking advantage of this extra offer please create a test order on the RHDJapan website (more details)
For those who are going to take advantage of any consolidation we will also include a I ♥ HKS T-Shirt as a service!!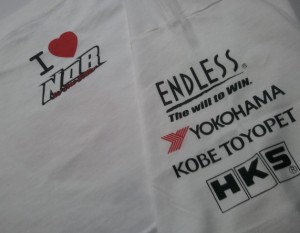 M Size : 165~170cm height, 88~96cm chest girth, L Size : 170~180cm height, 96~104cm chest girth
When your payment has been completed please confirm the size of shirt that you would like.
*Additional discount will be applied once items are added to shopping cart.
All HKS Mufflers for Mitsubishi
Campaigns:
TRUST Cooling Campaign ~July 30
APP HID Lighting Campaign ~July 28
APP Brake Line & Pad Campaign ~July 31
Endless Brake Kit Campaign ~August 10
RE-Amemiya WTAC 2012 Campaign ~August 13
ARC Cooling Campaign ~August 17
HKS FREE EVC Campaign ~August 24
SARD Cooling Campaign ~August 30
HPI Cooling Campaign ~August 30
HPI Intercooler Campaign ~August 30
TRUST GReddy Suspension Campaign ~Aug 30
TRUST Turbine Kit Campaign ~Aug 30
TEIN Suspension Campaign ~Sept 27
Charity Campaigns
Save Japan Charity Jacket w/ RHDJapan Patch
toutes nos salutations une fois de plus depuis le Blog de RHDJapan, pour ajouter en plus à la quantité des offres en cours, nous avons décidé d'en sortir une de notre chapeau qui sorte un peu de l'ordinaire! En plus de la remise exceptionnelle que nous vous offrons, nous ajouterons un T-Shirt à ceux d'entre vous qui sont prêts à acheter stratégiquement et à profiter des frais de port les plus rentable grâce à la consolidation.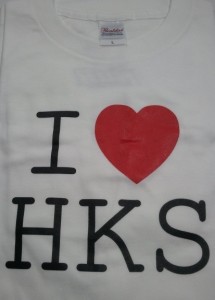 Offre #1 : une remise de 6% supplémentaire sera appliquée à tous les pots HKS jusqu'au 24 Août!!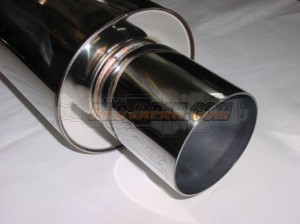 Offre #2 : Un T-Shirt Officiel de HKS est inclus GRATUITEMENT pour l'achat d'un pot d'échappement consolidé avec d'autres articles.
si vous souhaitez tirer parti de cette offre, mercie de créer une commande test sur le site RHDJapan (plus de détails (dispo en FR)
Le T-Shirt I ♥HKS est un T-Shirt pour célébrer leur nouveau projet : D1GP 86 project piloté par Taniguchi (NOB). Les Logos Sponsors sont présents sur les manches, c'est juste un remarquable article pour n'importe quel fan HKS
!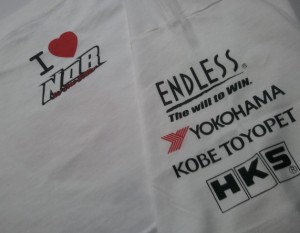 Taille M : 165~170cm , 88~96cm tour de poitrine, Taille L : 170~180cm, 96~104cm tour de poitrine
Une fois que votre réglèment aura été confirmé, merci de nous confirmer la taille que vous désirez pour votre T-Shirt.
*La remise additionnelle est appliquée aux articles une fois qu'ils sont ajoutés au Caddie.

All HKS Mufflers for Mitsubishi
Offres :
TRUST Cooling Campaign ~ 30 Juillet
APP HID Lighting Campaign ~ 28 Juillet
APP Brake Line & Pad Campaign ~ 31 Juillet
Endless Brake Kit Campaign ~ 10 Août
RE-Amemiya WTAC 2012 Campaign ~ 13 Août
ARC Cooling Campaign ~ 17 Août
HKS FREE EVC Campaign ~ 24 Août
SARD Cooling Campaign ~ 30 Août
HPI Cooling Campaign ~ 30 Août
HPI Intercooler Campaign ~ 30 Août
TRUST GReddy Suspension Campaign ~ 30 Août
TRUST Turbine Kit Campaign ~ 30 Août
TEIN Suspension Campaign ~ 27 Septembre
Offres Caritatives
Save Japan Charity Jacket w/ RHDJapan Patch