Hello from the RHDJapan team and blog. This week week have been busy with getting 3 more great campaigns up and running and now have 15 in total! This week was the Tenjin Matsuri held in downtown Osaka, it is a massive celebration of culture with a history of over 1000 years!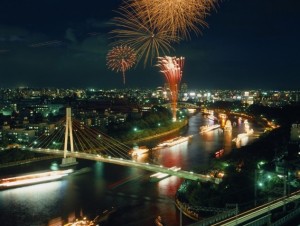 the fireworks finale and river filled with boats filled with spectators
Like we do every Friday, RHDJapan will be extending an additional 6% discount on some select manufacturers until 9:00a.m Monday , July 30
This additional discount will also be further applied to all items on Clearance!!
Campaigns:
TRUST Cooling Campaign ~July 30
APP HID Lighting Campaign ~July 28
APP Brake Line & Pad Campaign ~July 31
Endless Brake Kit Campaign ~August 10
RE-Amemiya WTAC 2012 Campaign ~August 13
ARC Cooling Campaign ~August 17
HKS Muffler & Extra Consolidation Campaign ~August 24
HKS Metal Catalyzer Campaign ~August 24
HKS FREE EVC Campaign ~August 24
SARD Cooling Campaign ~August 30
HPI Cooling Campaign ~August 30
HPI Intercooler Campaign ~August 30
TRUST GReddy Suspension Campaign ~Aug 30
TRUST Turbine Kit Campaign ~Aug 30
TEIN Suspension Campaign ~Sept 27
Charity Campaigns
Save Japan Charity Jacket w/ RHDJapan Patch