Hello from a sweltering Osaka and the sizzling RHDJapan blog. After picking up and collecting many different goods over the last couple months we are currently preparing another very special batch of FREEBIES with over 100 items available. From T-Shirts to Hats, sticker sets and keychains, posters to eco-bags we will have a great variety of different items and something of interest for any enthusiast!
The next massive batch of FREEBIES will be posted on the blog in the next couple days. Get your order in early to lock down a great FREEBIE!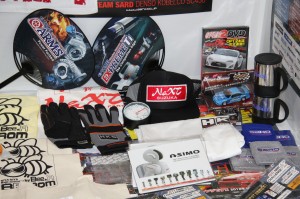 a sneak peak on a couple of the items that will be available in the CHUGEN batch of FREEBIES!
Like we do every Friday, RHDJapan will be extending an additional 6% discount on some select manufacturers until 9:00a.m Monday, August 6
DEE's Club (Option Magazines, Drift Tengoku, etc)
This additional discount will also be further applied to all items on Clearance!!
Campaigns:
Endless Brake Kit Campaign ~August 10
RE-Amemiya WTAC 2012 Campaign ~August 13
ARC Cooling Campaign ~August 17
HKS Muffler & Extra Consolidation Campaign ~August 24
HKS Metal Catalyzer Campaign ~August 24
HKS FREE EVC Campaign ~August 24
SARD Cooling Campaign ~August 30
HPI Cooling Campaign ~August 30
HPI Intercooler Campaign ~August 30
TRUST GReddy Suspension Campaign ~Aug 30
TRUST Turbine Kit Campaign ~Aug 30
TEIN Suspension Campaign ~Sept 27
Charity Campaigns
Save Japan Charity Jacket w/ RHDJapan Patch