Greetings and salutations from RHDJapan. To start out the end of the year 's festivities RHDJapan will be  including a couple extra brands that we are very Thankful for. In addition we will be extending the weekend specials for an extra 2 days as a big thanks to our supportive customers.
Starting with some select Mugen we have begun a Happy Holiday promotion with only limited amounts of this nice FREEBIE! As we continue in Giving Thanks RHDJapan will begin another BIG Happy Holiday promotion with all products SARD! Soon to follow will be another great deal for select Cusco parts too!  This is just warming up for the Season and we will continue to make available many great deals as we enter the last month of 2014!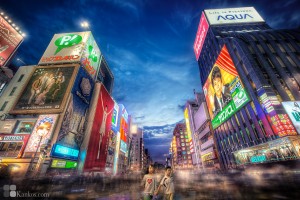 Downtown Osaka, home of the Hanshin Tigers! if you like this checkout more great shots from Kankos!
As we do every week for the weekend specials we will be offering an additional 6% off  The weekend specials and this offer will expire on Sunday midnight JST, please check the timer on the site to place your order in time!!
Extra Special savings on these brands which will also have a Qty Discount available! This will be an additional discount of JPY1000 for the 2nd item purchased and +JPY500 for each additional item purchased from the same manufacturer! 
Double up Discounted Brands:
AutoExe
Bomex
CRUISE
KTS
Standard Weekend Special Discounted Brands:
Please note that we are introducing many more campaigns using our custom software and it is possible that there is some overlap with other running campaigns or promos. Please note that we are aware and  perfecting it as we go along.