Hello from the RHDJapan blog. We will be introducing another special from our new lineup of campaigns.
This will be the 4th listing for our Weekday Pop Specials and this round will be lasting for 2 weeks!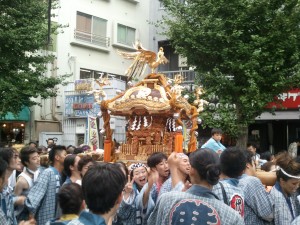 members of the RHDJapan team participated in the local Mikoshi carry last weekend.

The discount structure will be a little bit different than our Weekend Specials and will provide more incentive to consolidate your orders with RHDJapan.
The discount rates for our Weekend Specials are 6% on all parts per the manufacturers listed however with the Weekday Pop Special the discount rate will be 4% applied to everything in your shopping cart!
This round will be going on until Sept 19, 9:00am (JST)
**Orders placed from Sept8~19th will not be able to be processed until this campaign has finished.
Campaigns
Car Make T&E Vertex Aerokit Campaign ~Sept30

SARD Catalyzer Campaign ~Sept 30
Revolution WTAC Podium Campaign~Sept 10
SPOON Rigid Collar Campaign ~Sept 30
Mazda Festa Charity Goods Campaign Limited Availability
Bon retour sur notre Blog, bienvenue à tous!!
Nous sommes ravis de vous présenter une nouvelle offre issue de notre nouvelle gamme de promotions.
Ceci sera notre 4ème édition des Promos *PoP* de la Semaine, et cette nouvelle tournée va durer 2 semaines !!!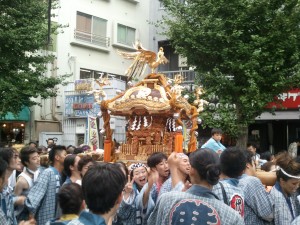 Des membrs de l'équipe  RHDJapan participant au festival local et portant le Mikoshi le Week End dernier.

La Structure de la remise diffère un peu de celle de nos Promos du Week End et va vous encourager encore plus à consolider vos commandes avec RHDJapan.
Cette fois la remise ne porte pas sur un ensemble de marques auxquelles nous ajoutons 6%, cette fois avec les Promos *pop* de la Semaine il s'agit de vous offrir 4% sur l'ensemble de votre Caddie !!
Ce tour de piste va durer jusqu'au 19 Septembre 9:00 am heure de Tokyo.
** Attention les traitement des commandes éligibles qui seront placées entre le 8 et le 19 septembre ne commencera pas avant la fin de l'opération !
Articles RHDJapan en liquidation
Offres en cours

Car Make T&E Vertex Aerokit Campaign ~ 30 Septembre

SARD Catalyzer Campaign ~ 30 Septembre
Revolution WTAC Podium Campaign~ 10 Septembre
SPOON Rigid Collar Campaign ~ 30 Septembre
Mazda Festa Charity Goods Campaign Quantité Limité