Thank you for checking the RHDJapan blog. With the changing of the seasons also comes new campaigns to finish off the last quarter of the year. This year is very special with the half century anniversary of one of the top names in JDM tuning performance, Tomei!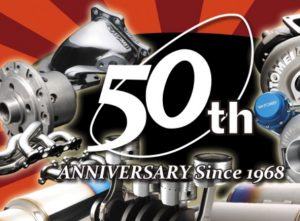 In celebration, RHDJapan is extending an additional JPY8500 discount off of the whole T-Trax LSD & Pro Kit Differentials/Final Gears!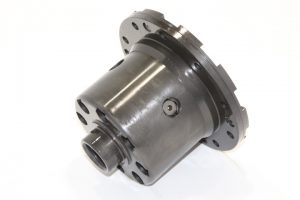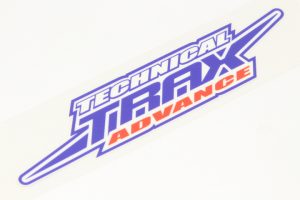 Thank you for checking out the RHDJapan blog. In the Holiday Spirit and celebration for the full lineup of the Super Now Tie Rod Ends we will be including a nice FREEBIE! Get your choice of the original Super Now Sticker Set or the new version Ima Decals with the purchase of any Super Now Links, Arms or Rods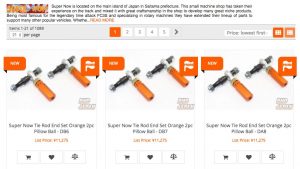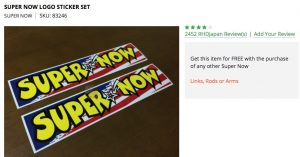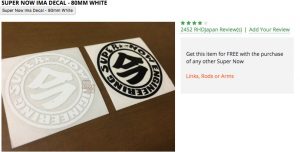 *Availability may change due to stock levels
Hello from the RHDJapan blog. This campaign is to introduce the annual EXEDY Clutch Kit blow out campaign! Available on a couple select popular tuning engines and mostly Hyper Single Clutch Kits with a couple Carbon Series as well.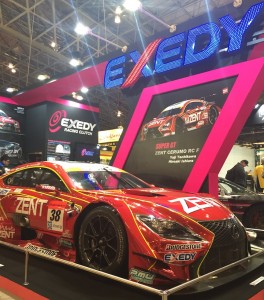 Up to 50% off MSRP! Up to JPY90,000 of MSRP!
Very Limited Availability!
Nissan: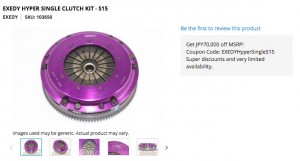 Toyota: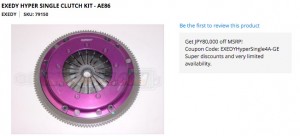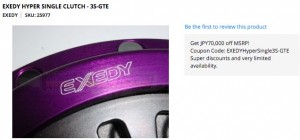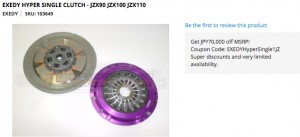 Honda: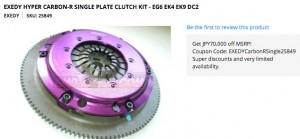 Mazda: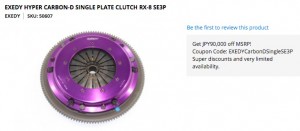 Subaru: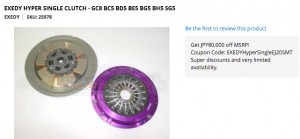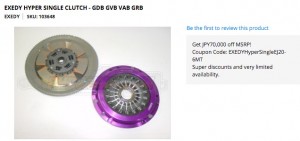 Thank you for checking the RHDJapan blog and Happy New Year! Kicking off each year starts with the excitement of the Tokyo Auto Salon!  This years event will be taking place from January 13~15th.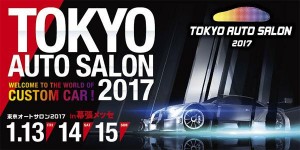 RHDJapan will be extending a special campaign to select manufacturers that work relentlessly to make the Tokyo Auto Salon the absolute best event dedicated to the JDM enthusiasts year in and year out! This blog listing is to introduce TAS Exhibitor RE-Amemiya: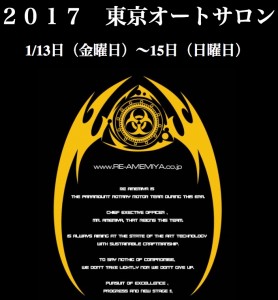 Other Tokyo Auto Salon Specials:
Cusco: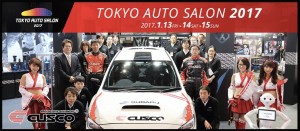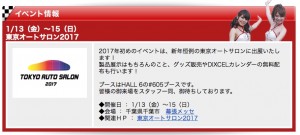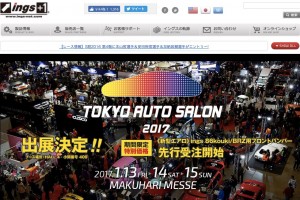 JAOS: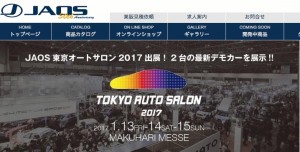 Modellista: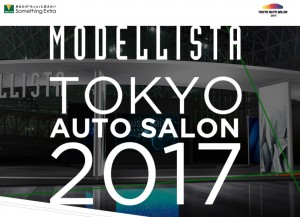 Origin: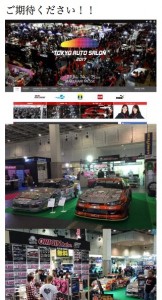 STi:

Subaru:

Toyota: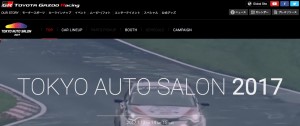 TRD: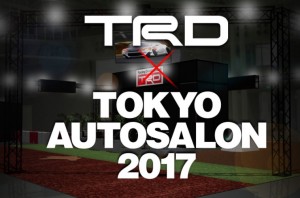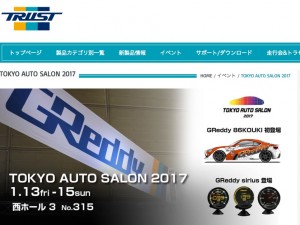 Hello from the RHDJapan Blog and team! We have just received word that once again there will be a price increase from Mazda on OEM parts. Unlike the other price increases seen in the past couple years this round is reported to be on all parts. In particular we expect to see a 10% increase on all engine related parts. Unfortunately the price increase are out of our control and prices on the site will also be increased from April.
Meanwhile, RHDJapan can give a fair heads up to the Mazda crowd and also extend the best pricing possible for the rest of the month.
RHDJapan will extend a 7% discount on the whole Mazda OEM lineup until March 29!!
Campaigns
Zero Sports Filter Campaign ~March 29
MSC Challenge Sponsor Campaign ~Limited Campaign
Charity Campaigns
Save Japan Charity Jacket w/ RHDJapan Patch
Hello from the RHDJapan Blog! We have just been informed by Super Now that there will be a price increase starting December 1st. This increase is due to the manufacturing price of the Pillow Ball's used in their bushings, links, arms and tie-rods. It is unfortunate as these are the core parts that have helped Super Now gain popularity over the years. Instead of going with a cheaper alternative Super Now will keep the same high quality bushings and this will lead to a price increase of up to 15%.
This is a heads up for those who have been considering making a purchase and prior to the price increase RHDJapan will create some extra incentive by  extending a special 7% discount on these items!

Add to cart to immediately receive additional 7% discount:
Super Now Links, Arms and Rods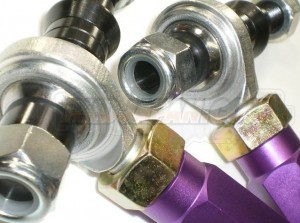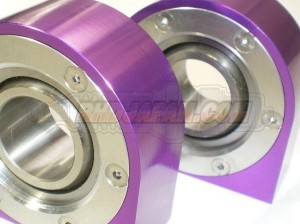 Campaigns:
Coil Over Campaign ~Limited
Project Mu Double Up Campaign ~Dec 14
D-Max Big Aero Campaign ~Limited
TRD & FREEBIES Campaign ~Nov 28
Charity Campaigns
Save Japan Charity Jacket w/ RHDJapan Patch
Hello from the RHDJapan blog. We will be introducing another special from our new lineup of campaigns.
This will be the 4th listing for our Weekday Pop Specials and this round will be lasting for 2 weeks!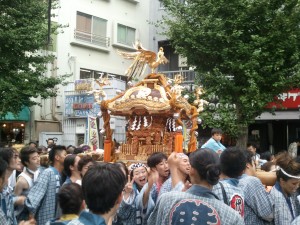 members of the RHDJapan team participated in the local Mikoshi carry last weekend.

The discount structure will be a little bit different than our Weekend Specials and will provide more incentive to consolidate your orders with RHDJapan.
The discount rates for our Weekend Specials are 6% on all parts per the manufacturers listed however with the Weekday Pop Special the discount rate will be 4% applied to everything in your shopping cart!
This round will be going on until Sept 19, 9:00am (JST)
**Orders placed from Sept8~19th will not be able to be processed until this campaign has finished.
Campaigns
Car Make T&E Vertex Aerokit Campaign ~Sept30

SARD Catalyzer Campaign ~Sept 30
Revolution WTAC Podium Campaign~Sept 10
SPOON Rigid Collar Campaign ~Sept 30
Mazda Festa Charity Goods Campaign Limited Availability
Bon retour sur notre Blog, bienvenue à tous!!
Nous sommes ravis de vous présenter une nouvelle offre issue de notre nouvelle gamme de promotions.
Ceci sera notre 4ème édition des Promos *PoP* de la Semaine, et cette nouvelle tournée va durer 2 semaines !!!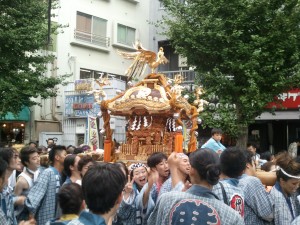 Des membrs de l'équipe  RHDJapan participant au festival local et portant le Mikoshi le Week End dernier.

La Structure de la remise diffère un peu de celle de nos Promos du Week End et va vous encourager encore plus à consolider vos commandes avec RHDJapan.
Cette fois la remise ne porte pas sur un ensemble de marques auxquelles nous ajoutons 6%, cette fois avec les Promos *pop* de la Semaine il s'agit de vous offrir 4% sur l'ensemble de votre Caddie !!
Ce tour de piste va durer jusqu'au 19 Septembre 9:00 am heure de Tokyo.
** Attention les traitement des commandes éligibles qui seront placées entre le 8 et le 19 septembre ne commencera pas avant la fin de l'opération !
Articles RHDJapan en liquidation
Offres en cours

Car Make T&E Vertex Aerokit Campaign ~ 30 Septembre

SARD Catalyzer Campaign ~ 30 Septembre
Revolution WTAC Podium Campaign~ 10 Septembre
SPOON Rigid Collar Campaign ~ 30 Septembre
Mazda Festa Charity Goods Campaign Quantité Limité