Welcome to the RHDJapan Blog. As we count down to only 2 weeks left in the Year of The Rabbit, the campaigns and offers going on are the more appealing overall than the earlier 50 weeks in the year.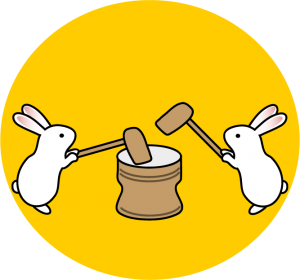 What do you see in the moon? Japanese see a Rabbit making Mochi (Rice Cake).
Mochi is traditionally made for New Years Celebration. Sayonara Year of the Rabbit
Like we do everyweek at this time we will be listing the select brands that will be on special for the whole weekend. An additional 6% discount will be applied to any parts from any of the manufacturers listed below. These specials end at 9:00am next Monday.
Among the brands available for extra discount this weekend will be as follows:
Discount will also be applied to Clearance Items
Campaigns
The Ultimate Golden Ticket Campaign! ~While stock lasts or Jan 6

TEIN Coilover Campaign ~While supplies last
TRUST LS-Spec Intercooler Campaign ~Dec 26
HPI 6-Speed Transmission Campaign ~Dec 26
KAAZ LSD Campaign ~Dec 28
Endless Big Brake Campaign ~Dec 28
RALLIART Discontinuation Sale~2012
SFIDA Brake Pad & APP Brake Line Campaign~2012
APP HID Lighting Campaign~2012
All Parts HKS Campaign ~2012
All Parts Nagisa Campaign ~2012
Charity Campaigns
Bonjour à tous et bienvenue sur le Blog de RHDJapan. Le compte à rebours pour la nouvelle année est tombé à seulement deux semaines, c'est tout ce qui reste de l'année du Lapin! Et les offres, promos et bonus en cours sont plus intéressants actuellement qu'ils ne l'ont été au cours des 50 semaines déjà écoulées.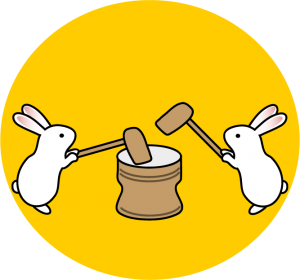 Que voyez vous dans cette lune? Les Japonais y voient un Lapin en train de faire du Mochi (gateau de riz)
On fait du Mochi traditionnellement pour les célébration de la nouvelle année. Sayonara année du Lapin!!
Et comme toutes les semaines à la même heure, le temps est venu de vous faire part de la liste des marques qui ont été choisies pour les Promos du Week End. Une remise supplémentaire de 6% est appliquée sur tous les articles de toutes les marques listées ci-dessous. Ces promos prendront fin lundi à 9:00 am, heure de Tokyo.
Parmi l'ensemble des marques choisie pour cette fournée cette semaine, on retrouve :
Cette remise s'applique également à tous les articles à prix cassés
Offres
The Ultimate Golden Ticket Campaign! ~ Jusqu'à épuisement des stocks, ou jusqu'au 6 janvier

TEIN Coilover Campaign ~ Jusqu'à épuisement des stocks
TRUST LS-Spec Intercooler Campaign ~ 26 Décembre
HPI 6-Speed Transmission Campaign ~ 26 Décembre
KAAZ LSD Campaign ~ 28 Décembre
Endless Big Brake Campaign ~28 Décembre
RALLIART Discontinuation Sale ~ 2012
SFIDA Brake Pad & APP Brake Line Campaign ~ 2012
APP HID Lighting Campaign ~ 2012
All Parts HKS Campaign ~ 2012
All Parts Nagisa Campaign ~ 2012
Offres caritatives