Thank you for checking out the RHDJapan blog. This post is dedicated to all the many different campaigns within the HKS Big Power Campaign into one location.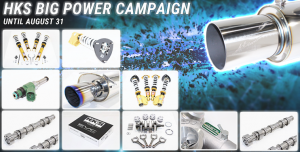 HKS Stroker Kit/Capacity Up Kit Campaign 
HKS Turbo & EVC Boost Controller Campaign
HKS Muffler Exhaust System Campaign
HKS Supercharger Kit Campaign - for ZN6 ZC6
HKS Bolt-on Turbocharger Kit Campaign - for ZN6 ZC6
Thank you for checking out the RHDJapan blog and this special campaign listing. This campaign is made specifically for the flagship tuning engine  crowd and those looking to get serious with upgraded engine internals! Whether looking to support big power and for increased engine displacement or need and engine rebuild and want perfect balance and next level reliability this campaign provides tremendous opportunity to pick up your HKS Capacity Up/Stroker Kit.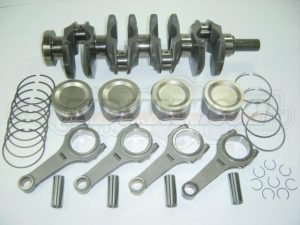 With the stroker kit,  Cams and Pulleys become an absolute requirements to get the most performance from the HKS Capacity UP Kit and your target engine tune. Many different camshaft profiles available to best match a variety of engine setups with fine tuning timing for your exact setup with HKS Camshaft Pulleys!  A Super Campaign!
SKU:66672 Step 1 SS-Cam 272
Thank you for checking out the RHDJapan blog. RHDJapan is proud to announce another great campaign for those looking to upgrade and solidify the heart of the engine! For those looking upgrade piston kit or stroker kit with the superior quality products from TODA Racing we will extend an additional 10% discount! ~Nov 30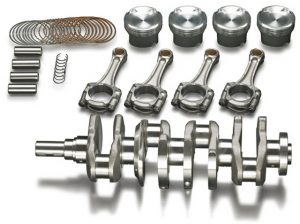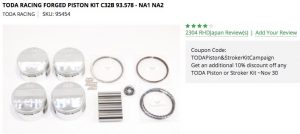 Welcome to the RHDJapan blog. Last but not least we have finally completed the listings for all engines applicable for the FREE CAMSHAFT set Campaign!
This campaign will allow for an additional discount of up to 32% extra off with the purchase total on select
Capacity Upgrade Stroker Kits and Camshaft Sets!
2JZ-GTE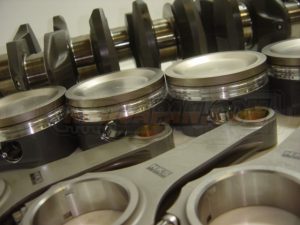 RB26DETT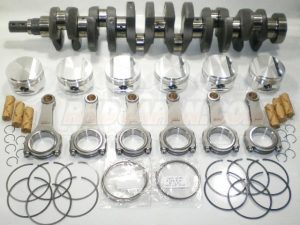 86/BRZ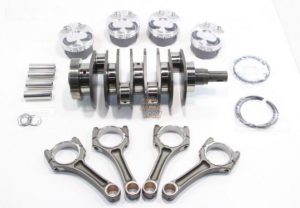 Lancer Evo X