Hello from Tokyo and the RHDJapan team
The majority of the RHDJapan team spent last weekend on the beautiful island of Okinawa.
We are now back and ready to bring more and more great campaigns throughout the month of August.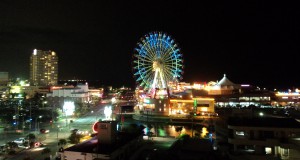 'American Village' in Chatan, Okinawa Japan
For this batch of Weekend Specials we will have 11 manufacturers in which all parts will be discounted an additional 6%
once added to the shopping cart!!
Other on-going campaigns:
Mazda Festa Charity Goods Campaign Limited Availability
TRUST Power Up Campaign RB26 Limited Availability!!
RALLIART Discontinuation Sale ~July 30
SARD Racing Blow Off Campaign ~Aug 15
Blitz Intercooler SE Campaign ~Aug 15
HKS FREE Spark Plug Campaign ~August 24
Extra Consolidation with HKS Muffler Campaign ~Aug 30
TRUST Suspension Campaign ~Aug 30
TRUST Muffler Campaign ~August 30
TRUST Cooling Campaign ~August 30
SARD Catalyzer Campaign +α ~Sept30