Hello from the RHDJapan team and thank you for checking out our blog.  This week we have started up another campaign only available with RHDJapan. FREE Cusco Tow Strap as a compliment to any Cusco LSD purchase and extra points for those who continue to choose RHDJapan for their quality parts purchases!
Thanks to all those who have been enjoying the coverage of the Bangkok International Auto Salon on our Instagram and FB pages
Weekend Specials Additional 6% discount
Other ongoing campaigns include the following:
Extra Goodies with Exedy Clutch Kits
Only with RHDJapan Cusco Coilover Suspension 
Stay in style, dry and cool with TRUST Polo Shirt
FREE Suction Kit for SR20DET Sports Turbine Kits
Get a FREE Chronograph Watch with any Endless Brake Kit
Stay cool with the HPI Cooling Campaign 
Let your engine breath better with APEXi Air Filter Campaign
Get a grip with the Steering Wheel Campaign
Freshen up your Power FC with the newest version Commander
Nardi Steering Wheel Promotion Campaign
TRUST GReddy Sirius Meter Campaign
Ohlins Suspension Campaign
HKS Suspension Campaign
HKS Exhaust System Campaign
Roll Cage Campaign
Hello from the RHDJapan team and thank you for checking out our blog.  Apologies about the delay on this batch of weekend specials, Bangkok International Auto Salon has been too enjoyable to let up on the fun.
We will be extending this batch for an extra day to make up for the delay.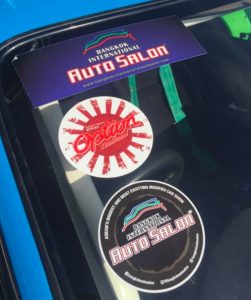 Bangkok International Auto Salon 2017, super event!
Weekend Specials Additional 6% discount
Other ongoing campaigns include the following:
Extra Goodies with Exedy Clutch Kits
Only with RHDJapan Cusco Coilover Suspension 
Stay in style, dry and cool with TRUST Polo Shirt
FREE Suction Kit for SR20DET Sports Turbine Kits
Get a FREE Chronograph Watch with any Endless Brake Kit
Stay cool with the HPI Cooling Campaign 
Let your engine breath better with APEXi Air Filter Campaign
Get a grip with the Steering Wheel Campaign
Freshen up your Power FC with the newest version Commander
Nardi Steering Wheel Promotion Campaign
TRUST GReddy Sirius Meter Campaign
Ohlins Suspension Campaign
HKS Suspension Campaign
HKS Exhaust System Campaign
Roll Cage Campaign