Seasons Greetings from Kansai and the RHDJapan blog!! Today November the 23rd will be 勤労感謝の日 (Kinrō kansha no hi) which is another National Holiday in Japan. The holiday is designed to give thanks to one another and to commemorate labor and production. The RHDJapan team will be away from the office in observance of this holiday.
While giving thanks we would like to take this opportunity to officially start the BlackFriday2022 Sale. The Coupon Code:
BlackFriday2022
will provide an additional 5% discount on ALL items within the RHDJapan catalog. This includes ALL aftermarket parts on RHDJapan.com including OEM, Wheels and checkout from BIDJDM!
This sale will be available immediately from Thanksgiving Day, throughout Black Friday through Cyber Monday and expire on the 30th of Nov at 08:30 JST.
感謝=Kansha=Gratitude
After a year of ups and downs we have continued to push to improve all aspects of the RHDJapan services. We would like to extend our gratitude for all the customers that have continued to support us and the services provide. With this campaign we are extremely confident that we can provide you with the best overall shopping experience for JDM parts.
Hello from the RHDJapan team. For those who have registered vehicle(s) in their garage now can see a complete custom website with only products specific to these vehicles. Who wants to see cool parts for other vehicles?  Very few want to see great parts that cannot be used on their application. In addition, we now have a monthly newsletter specifically for new products for these vehicles. Stay up to date with the newest releases for your machine(s).
If you have more than one vehicle registered please make sure to subscribe individually. The green envelope will show which vehicles are registered.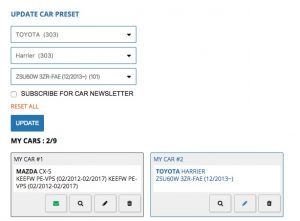 only CX-5 registered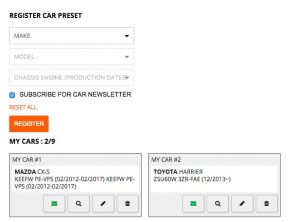 both CX-5 and Harrier registered
Thank you for checking the RHDJapan blog. More great news for the Holiday Season! We are excited to announce the reintroduction of select Nissan OEM parts that were  discontinued under the NISMO Heritage Parts program. Great news for those looking to keep their cherished BNR32 in top form!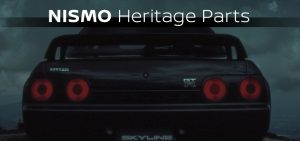 full lineup of parts can be found through the NISMO Heritage Parts special site
The first release of items are all specific to BNR32, the first round will be available from the beginning of December and some being released at an unspecified date. All parts will have updated NISMO part numbers. Both old and updated part numbers can be used to track down parts/pricing and leadtime from the RHDJapan OEM Store!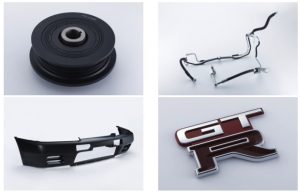 In addition to just about anything you want from Japan other used, discontinued and new old stock parts can be tracked down with the RHDJapan BIDJDM Store!
Seasons Greetings from the RHDJapan blog. As we start the last month of the 2016 season also come the Holidays and annual Tokyo Auto Salon. This combination tends to have a bigger impact on the schedules for the manufacturers. Although orders tend to go smooth the leadtime for parts can also be impacted. For time sensitive orders please check the Holiday Schedule
.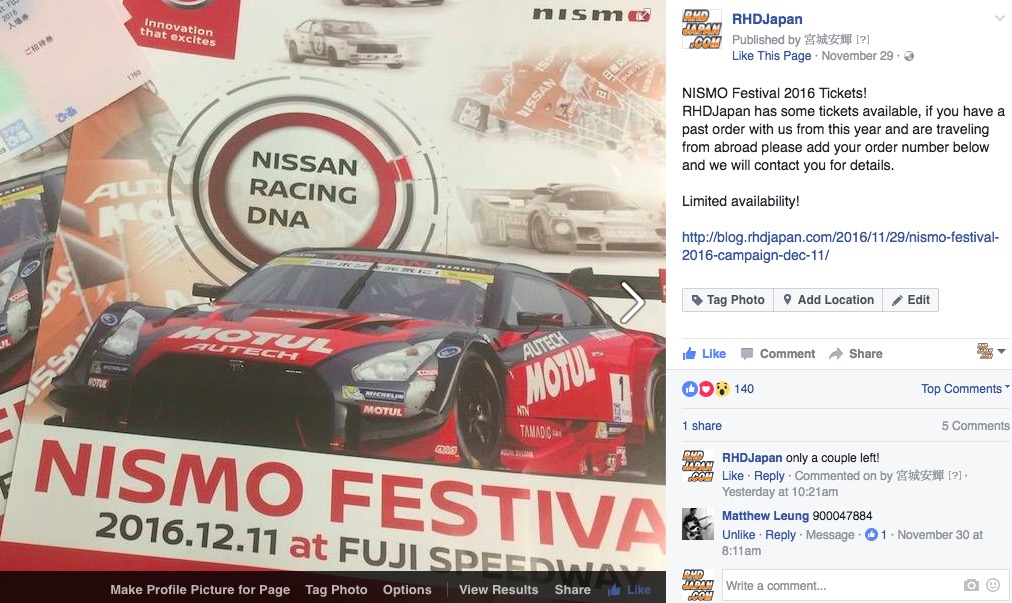 Coming to NISMO Festival 2016?
This week we have introduced the following campaigns:
Don't forget about the 8% Discount on all OEM parts listed on the RHDJapan site and 8% Discount on all Wheels listed in the RIM Store  and Super Rare last production of the Omori Factory LM GT4 Wheels still available!
This weekend all the brands below will have atleast 6% additional discount! Brands marked in Orange will also have an additional discount applied when purchasing more than one item at a time. Not all items apply, If items qualify additional discounts will automatically be applied at checkout.
Coupon Code: WeekendSpecials
Other Campaigns listed will have an increased discount or offer:
Campaigns:
SARD Torsen Racing LSD Campaign
These other campaigns will be ongoing with lots of availability.
SARD LMGT Engine Oil Campaign
KAAZ LSD & Oil Campaign ~Supplies Last
APP Brake Fluid Campaign
Welcome to the RHDJapan blog. This listing is for the serious enthusiast looking to keep their aging JDM classic in top form for several more years.
The OEM manufacturers have continually been discontinuing parts, many of which are for vehicles manufactured prior to the mid-90's.  Despite the popularity of many of the vehicles manufactures normally start to discontinue replacement parts after about 25 years. Many OEM parts have no alternative and although there are many of these vehicles out there still there will be many others seeking these parts out as they become more and more difficult to find.
If you are looking to keep your vehicle running for a long time and know that you will need to replace some OEM items it would be ideal to start checking the auctions.
Tracking down active auction listings can be made in real-time using the bidjdm.com Advanced Search. Adding vehicle body information and selecting used parts tends to give a good qty of parts currently available.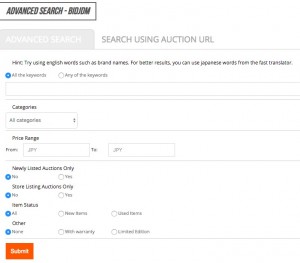 After the search is complete there will be some suggested keywords. The word OEM is barely used, the most accurate way to would be to join the search with 純正.

As an extra helpful tip sorting the search results by bids: most first tends to show what is hot!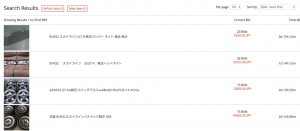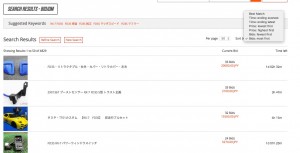 Welcome to the RHDJapan blog and Seasons Greetings! This campaign will be specific for all OEM parts and their Works Manufacturers! This is the first time RHDJapan has been able to make all these essential manufacturers on extra special sale at the same time and the campaign will be going on for 1 week.
The Works Campaign which include the absolute favorite JDM brands of all-time along the with essential OEM parts!
RHDJapan is happy to extend a 7% discount on the Works Manufacturers and OEM parts until December 21!!
This additional discount will be applied to all parts from these essential manufacturers!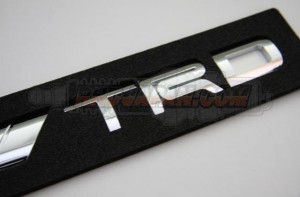 along with
Add anything from any of these legendary JDM Works Makers to your shopping cart to get a total shipped price to your location!
Campaigns:
Coil Over Campaign ~Limited
D-Max Big Aero Campaign ~Dec 18
Cusco LSD Campaign ~Dec 19
HKS Spark Plug Campaign ~Dec 21
10% off all SARD Products ~Dec 21
HKS Muffler Campaign ~Dec 21
APP HID Lighting Campaign ~Dec 21
10% off all Okuyama/Carbing Products ~2013
Charity Campaigns
Save Japan Charity Jacket w/ RHDJapan Patch