Welcome to the RHDJapan Blog and we are excited to introduce the Winter Bonus Campaign!
Starting immediately all orders with a subtotal of JPY35,000 or higher will automatically receive a JPY3000 discount on their order! This is an automatic 8.5% discount right when the base price is met and is available for everything on the RHDJapan site!!
This is the equivalent of more than FREE Shipping on items such as Injector Sets, close to FREE Shipping on Meter sets, a big chunk off the total shipping for Steering wheels purchased with shift knobs and/or boss kits. The list can go on and on to, all you need is to meet the minimum purchase criteria.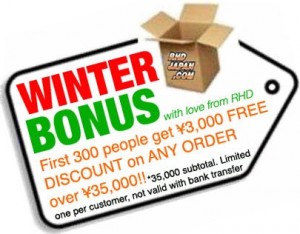 What is even more exciting about this campaign is that it can be used on top of the other campaigns going on!! When used in conjunction with the other campaigns you may receive up to additional 9% discount!!
Below are a couple examples possible additional discount in percentages.
With Nagisa Campaign 7% discount increased to over 11%!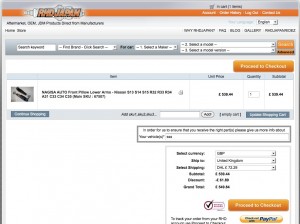 example to UK in Pound
With Ralliart Campaign the 10% discount has jumped to over 14%!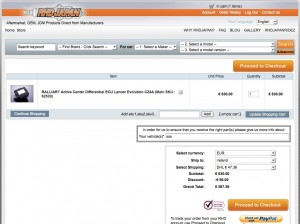 example to Ireland in euro
With the TEIN Campaign the 9% discount has increased to 11%!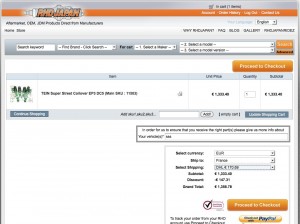 example to France in euro
With the TRUST Intercooler Campaign the 10% discount has increased to 17.5%!!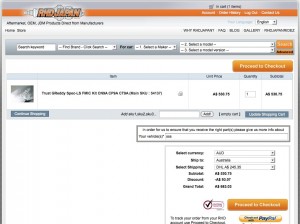 example to Australia in AUD
With the KAAZ  LSD Campaign the 8% discount has increased to 12.5%!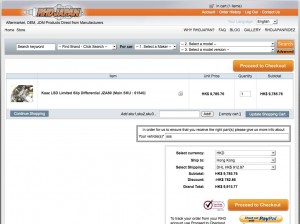 example to Hong Kong in HKD
With the APP HID Campaign there is no discount set as it is for FREE Bulbs.  However the base price of the HID kits is just below that of the amount needed to qualify for this campaign. With the addition of a something like a T-Shirt valued at JPY3175 the JPY3000 discount is applied! end result : JPY175 for a JUN Auto T-Shirt!!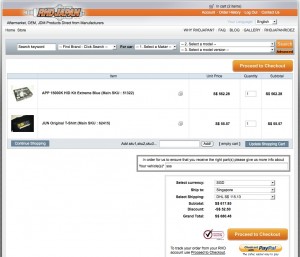 example to Singapore in SGD
With the HKS Campaign the 7% discount has increased to 13.5%!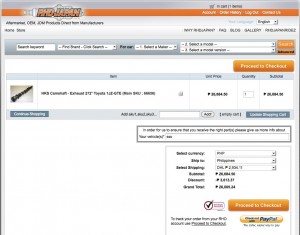 example to Philippines in Peso
With the Project Mu campaign the JPY4000 (approx 10%) discount increased to a discount of JPY7000 (approx 19%!!)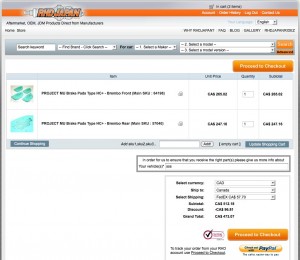 example for Canada in CAD
*This offer will only be valid for the first 300 people and one use per customer account on the site.
**The discount is not available for bank transfer payments.
Discount will also be applied to Clearance Items
Campaigns
The Ultimate Golden Ticket Campaign! ~While stock lasts or Jan 6

TEIN Coilover Campaign ~While supplies last
Project Mu Brake Pad Campaign ~Dec 14
TRUST LS-Spec Intercooler Campaign ~Dec 26
HPI 6-Speed Transmission Campaign ~Dec 26
KAAZ LSD Campaign ~Dec 28
Endless Big Brake Campaign ~Dec 28
RALLIART Discontinuation Sale~2012
SFIDA Brake Pad & APP Brake Line Campaign~2012
APP HID Lighting Campaign~2012
All Parts HKS Campaign ~2012
All Parts Nagisa Campaign ~2012
Charity Campaigns
Bienvenue à tous sur le Blog de RHDJapan, nous sommes très heureux de vous présenter les Bonus de L'Hiver!!
Dès à présent, toutes les commandes ayant un total supérieur à 35.000JPY vont recevoir une remise immédiate de 3000JPY sur le total de leur commande!
Ceci représente une remise automatique de 8,5% immédiatement lorsque le montant de base est atteint et ceci est valable pour absolument tout le site RHDJapan!!
Ceci revient à offrir un peu plus que les frais de port sur des set d'Injecteurs, presque le total des frais de port sur des Meter sets, un gros coup de canif sur les frais de port desVolants acheté en même temps que des pommeaux de levier de vitesse et/ou un boss kits. La liste peut être encore longue et s'alonger à l'infini, tout ce que vous avez à faire c'est d'atteindre le montant minimum pour qualifier votre commande!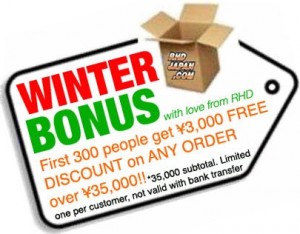 Et ce qu'il y a de vraiment bien avec ces bonus, c'est qu'ils sont tout à fait cumulables avec l'ensemble des offres que nous avons en cours, c'est un peu la cerise sur le gâteau, ou la crème sur la bûche de Noël!! En effet, utilisé de paire avec l'une ou l'autre de nos offres en cours, ce bonus peut vous permettre d'atteindre facilement les 9% de réduction sur le total de votre commande!!
Voici ci-dessous quelques exemples de remises additionnelles et ce que cela représente en pourcentage.
Avec L'offre Nagisa 7% de remise se transforme en plus de 11%!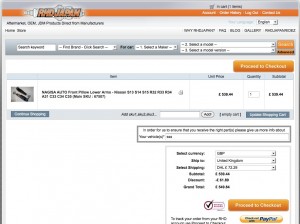 exemple à destination du Royaume Uni en Pound
Avec L'offre Ralliart les 10% de réduction bondissent à plus de 14%!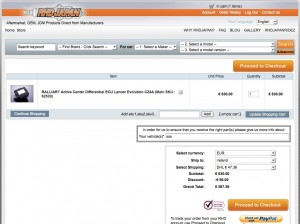 Exemple à destination de l'Irlande en euro
Avec  L'offre TEIN les 9% de réduction grimpent à 11%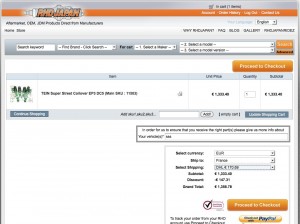 Exemple à destination de la France en euro
Avec L'offre TRUST Intercooler on atteint des sommets, les 10% initiaux se transforment en 17.5%!!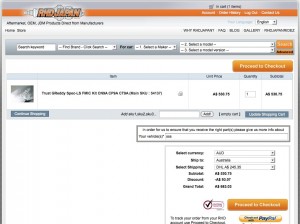 Exemple à destination de l'Australie en AUD
Avec L'offre sur les LSD KAAZ les 8% de remise immédiate se changent en 12.5%!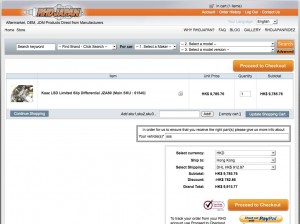 Exemple à destination de Hong Kong en HKD
Avec L'offre APP HID Il n'y a pas de remise à l'origine puisqu'on vous offre un set d'ampoule gratuit. Cependant, le prix de base des kits HID est juste inférieur au montant nécessaire pour profiter de ces bonus de l'Hiver. Alors si on ajoute un petit quelque chose comme un T-shirt à 3.175JPY auquel on applique les 3.000 JPY de remise, ça vous fait : 175JPY pour une T-Shirt de chez JUN Auto!!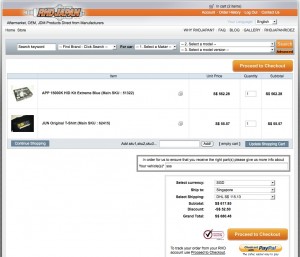 Exemple à destination de Singapore en SGD
Avec L'offre HKS les 7% de remise passent à 13.5%!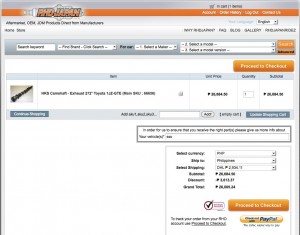 Exemple à destination des Philippines en Peso
Avec la Campagne Project Mu les 4000JPY (environ 10%) de réduction se changent en 7000JPY (soit environ 19%!!)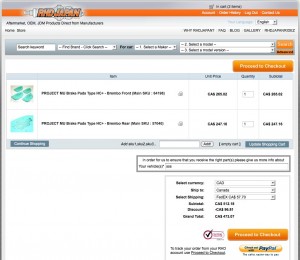 Exemple à destination du Canada en CAD
*Cette offre n'est valable que pour les 300 premières personnes, une seule offre par compte client enregistré sur le site.
**La remise n'est pas disponible pour les commandes réglées par virement bancaire.
Cette remise s'applique également aux articles à prix cassés
Offres
The Ultimate Golden Ticket Campaign! ~ Jusqu'à épuisement ou jusqu'au 6 janvier

TEIN Coilover Campaign ~ Jusqu'à épuisement des stocks
Project Mu Brake Pad Campaign ~ 14 Décembre
TRUST LS-Spec Intercooler Campaign ~ 26 Décembre
HPI 6-Speed Transmission Campaign ~ 26 Décembre
KAAZ LSD Campaign ~ 28 Décembre
Endless Big Brake Campaign ~ 28 Décembre
RALLIART Discontinuation Sale ~ 2012
SFIDA Brake Pad & APP Brake Line Campaign ~ 2012
APP HID Lighting Campaign ~ 2012
All Parts HKS Campaign ~ 2012
All Parts Nagisa Campaign ~ 2012
Offres caritatives