Welcome once again to the RHDJapan blog. We will be closing out the end of May by extending this batch of weekend specials a couple extra days. This is a special offer on the newly introduced brands that have become even more affordable through RHDJapan. The available discount on all of the brands in the Weekend Specials has been significantly enhanced. Passing the savings on to our customers has just been increased in a big way.
The following brands have been added this week to the extensive list for this permanent discount:
example of discounts available!
Add multiple items from any of the manufacturers to your shopping cart and automatically see discounts applied in the shopping cart (some exceptions). Add the coupon code for the Weekend Specials and see additional discounts apply to the order!
With the ever growing extensive list of wheels being made available on the site we are proud to finally get the whole TOM's lineup. A great feeling to get the iconic brand that had some of the most sought after wheels for the old school JDM 4 lug applications.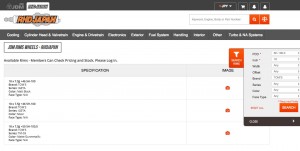 Use the pinpoint search to narrow down the search and send a direct request through the site if we do not have the perfect set of JDM wheels up as of yet.
New Campaigns:
HKS San-Kyu Campaign on Exhaust System and Coilover Suspension.
Ongoing Campaigns:
Big discounts for the Honda crowd looking to upgrade with TODA chain and tensioner! Click on images to go directly to the listings: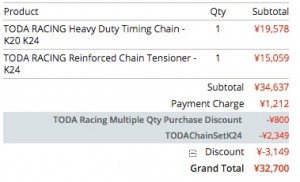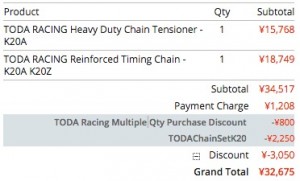 Project Mu Brake Pad Campaign!
DEFI full lineup Campaign!
ORC Clutch Campaign Silver Nugget
GReddy Sunshade FREE service campaign!

 These other campaigns will be ongoing with lots of availability.
SARD LMGT Engine Oil Campaign
Super Now Sticker Campaign ~Supplies Last
KAAZ LSD & Oil Campaign ~Supplies Last
APP SFIDA Brake Pad & Fluid Campaign ~Supplies Last